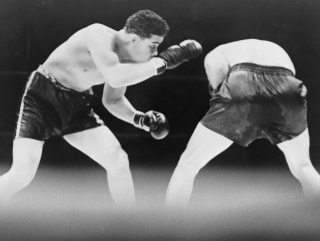 Williams active in Republican Politics
In the 1960 Presidential election Paul Williams, along with Joe Louis (the former world heavy weight boxing champion), officially endorses the Nixon-Lodge presidential ticket in the LA Times, November 3, 1960.
Louis believes Richard Nixon is the "best trained" candidate in the race. In this photograph Louis is in the ring with Max Schmeling in 1936.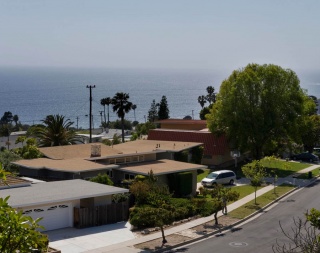 Homes at Peninsula Built For Best View
Los Angeles Times, October 9, 1960
"Homes in Seaview Palos Verdes, on the southern heights of the peninsula, are positioned individually on terraced lots by Paul R. Williams, FAIA, for maximum view. Some are angled so that the rear expanses of glass will face the most interesting view possible."
Veterans Buy Most of Homes
Los Angeles Times, March 20, 1960
"Veterans of World War II comprise 95% of the early purchasers of Seaview Palos Verdes Homes, a sales office check has revealed. ... Forty-one exterior designs based on nine floor plans have been created by Paul R. Williams, FAIA.
17 Negro Leaders Invited to Ghana Embassy
Jet, April 7, 1960
"In the first such project arranged since the African Freedom Drive, Ghana Ambassador William M.Q. Halm will play host to outstanding U.S. Negro businessmen at the Embassy dinner in Washington. Among those invited...architect Paul Williams."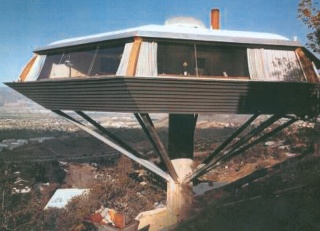 Chemosphere, Los Angeles, California
Architect John Lautner's designs reflect his philosophy of shelter as a basic human need. His works are a meditation on the relationship of people to space and space to nature. An apprentice in the first class at Taliesin (Frank Lloyd Wright's school), Lautner begins his own practice in Los Angeles in 1939. He is credited with Googie-style architecture in the 1950s.
Lautner designs the eight-sided Chemosphere for engineer Leonard Malin on a seemingly impossible location with a 45-degree slope in the Hollywood Hills. Cantilevered from a 30-feet-high, poured concrete pedestal, the home is known locally as the "house on a post." Part Jetson cartoon, part James Bond party house and totally iconic midcentury modern, the 1960 house is constructed of steel, wood and concrete. A new chemical adhesive-sealant solves the construction problem of bonding the concrete and steel. Owner Malin collaborates with the architect to design a four-seat cable car for access from the road. (Popular Mechanics, October 1961)
Photographed by Julius Shulman, the Chemisphere is featured in a number of motion pictures including Body Double.