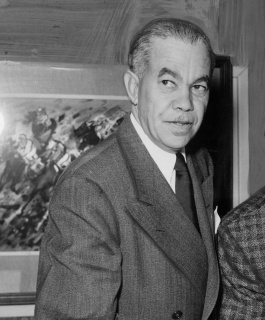 The Patio Home on Display at Los Altos Park
Los Angeles Times, February 26, 1950
"Featuring one of the tallest planting boxes on record, The Patio home, designed by Architect Paul R. Williams, is now on display in Los Altos Park ... the planting box, in front of the residence, reaches just below the boxed eaves. The interior of the box forms the wardrobe for the front bedroom."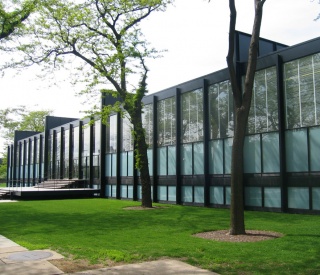 S. R. Crown Hall, Chicago, Illinois
The Illinois Institute of Technology is located near the South Side of Chicago. With a "master-planned" campus designed specifically for an urban setting, the university is known for its outstanding architecture. Ludwig Mies van der Rohe is director of the architecture program from 1938-1958 and designs 19 of the 55 campus buildings. S.R. Crown Hall (1950) is considered an icon of his philosophy of a universal building type later called Miesian-style. It is a significant design departure from his earlier campus designs. Crown Hall, an example of the 20th century Modernist movement, emphasizes the synthesis of technology, materials, detailing and design.
Mies van der Rohe designs Crown Hall as a two-level, rectangular structure with industrial simplicity. The building's sole ornamentation is the exposed, black-painted steel frame filled with large sheets of glass of varying transparency. On the top level the architect creates an open, unobstructed, flexible work space that encourages collaboration and cooperation between students and faculty. Mies van der Rohe describes this pavilion-like design as a universal space. The lower level contains rooms for building services/operations, bathrooms, administrative offices, wood and model shops and smaller lecture rooms.
One of the most important architects of the 20th century, Mies van der Rohe considers S.R. Crown Hall an "exceptional" precedent for the buildings he will design. He writes that this Hall is "the clearest structure we have done, the best to express our philosophy." The building is added to the Park Services' National Register of Historic Places.