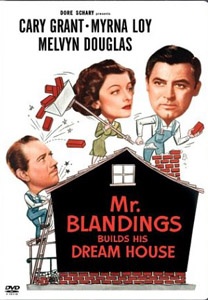 Advises on movie Mr. Blanding Builds His Dream House
In the 1948 RKO movie Mr. Blanding Builds His Dream House, Mr. Blanding (Cary Grant) experiences building a home working with an architect, lawyers, builders and workmen. This is the first time in film history that a real house is built for a movie set.
"Those who have shuddered slightly at the prospect of what Hollywood will do with Mr. Blanding Builds His Dream House may comfort themselves in the news that the Southern California Chapter, AIA, is on the job. Its president has appointed Robert Alexander, Welton Becket and Paul Williams to serve as a special committee to work with William Pereira—also AIA—in trying to make the film a fair representation of architect-client relationships. (Journal of the American Institute of Architects, September 1947)
The General Electric "Dream Kitchen" featured in this movie is an early example of product placement in film.
Something Clients Want
Time, January 26, 1948
"Some architects have been known to sniff at Williams' work; esthetically it breaks no new ground. But Williams, who does not like the severity of modern designs, makes no bones about his ability to work over old ground. He gives a new look to Early American, Spanish, Cape Cod, and judges his work by one standard: 'If I build the kind of house a client wants, I'm a good architect.' Clients seemed to agree: last year Williams grossed $140,000 (his staff of 20 includes two Negroes, a Chinese, two Germans, four Jews), netted around $50,000."
Portrait to Be Unveiled
Los Angeles Times, April 30, 1948
"A portrait of Paul Williams, Los Angeles architect, will be added to the exhibition of paintings of outstanding Negro Americans now being shown at the Public Library. The portrait will be unveiled at 8 p.m. tomorrow, Artist Betsy Graves Reyneau announced."
This painting is now part of the perminant collection at the National Portrait Gallery in Washington, D.C.