Frisco Bridge across Mississippi River at Memphis
On May 12, 1892, the Frisco Bridge in Memphis, Tennessee opens one year before Chester and Lila Williams move to Los Angeles. It is the first bridge to span the lower Mississippi River and the crowning achievement for chief engineer George S. Morison. Hundreds attend the opening ceremonies to watch the first locomotive cross the bridge. The railroad bridge links commerce from eastern markets to the west.
When constructed, steel is a new material for large projects. The cantilevered bridge features a 790-foot span with two smaller 600-foot spans. At 65 feet above the river, the Frisco Bridge has the highest clearance of any bridge in the United States. The piers are 100 feet below the surface of the river.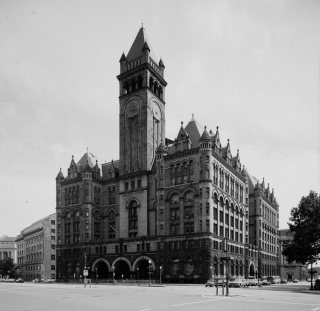 US Post Office, Washington, D.C.
The U. S. Post Office Building is constructed in Washington, D.C. from 1892 through 1899 under the supervision of architect Willoughby J. Edbrooke. The building is the first of ten planned governmental buildings built in the Federal Triangle formed by 15th Street NW, Constitution Avenue NW, Pennsylvania Avenue NW, and E Street NW. Many of these buildings are architecturally important and the Post Office building is one of the few examples of Richardson Romanesque in the U.S. Capital and the only govenment building in this style.
Built of Maine granite, the building's most prominante architectural feature is a chateau roof with a 315 foot high clock tower centered in the main facade. The building's turretted corners, fenestration treatment and ornamnetal dormers are typical of the Romanesque style. The nine story open central court is covered by ornamental iron trusses and houses a bank of open cage elevators. The large glass skylight floods the interior with light.