USC Honors Williams
As Paul R. Williams begins to think about retiring from active practice he is honored by peers and others in the community. Tributes are announced at a testimonial dinner given for Williams. University of Southern California names a room in his honor in the soon-to-be-completed Watt Hall in the architectural complex. In addition the creation of the USC Paul Williams Scholarship in architecture is announced and Broadway Federal Savings and Loan Association donates the first check.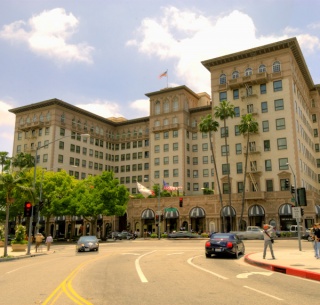 Colleagues Honor Paul R. Williams
Los Angeles Times, May 27, 1973
"Paul Williams, whom we honor here tonight, pioneered this profession as a minority architect and has, consequently, removed some of the barriers confronting us, thus, giving to us that incentive to press forward in a society with a slowly changing attitude, Harold Williams (no relation), president of the Association of Minority Architects and Planners of Southern California, told the audience of 450 at the Beverly Wilshire."
In the 1940s and 1950s Williams is hired for the extensive renovations at the Beverly Wilshire. The hotel is added to the National Register of Historic Places in 1987. Williams' additions/renovations were cited in the supporting document as significant examples of 1940s to 1950s period architecture.