Williams is active in the community
In 1933 Williams is appointed to the first Los Angeles Housing Commission by Los Angeles Mayor Shaw. He serves on this municipal commission until 1941.
Throughout his life, Williams continues to be active in the community. In 1942 for example he is named to Citizens' School Committee, a group that "has no other purpose than to bring about the election to the Board of Education the best possible timber." (Los Angeles Times, April 19, 1942) Later in 1942 Williams, along with 43 leading architects, opens an advice service at Mary Louise Schmidt's Architects Building-Materials Exhibit to foster a closer relationship between architects, owners and manufacturers. (Los Angeles Times, November 6, 1942)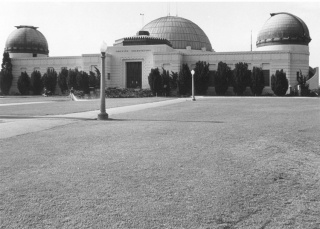 Griffith Observatory
In 1919 Griffith J. Griffith dies and leaves $100,000 in a trust to build a public observatory in Los Angeles. The philanthropist's interest in astronomy is sparked by visits to Mount Wilson Observatory, the largest in the world. John C. Austin and Frederick M. Ashley are selected by the LA Park Commission and the Trust to design the observatory. Ground is broken in 1933 and the building opens in 1935.
The Austin and Ashley Art Deco-style Griffith Observatory is constructed of thick, earthquake resistent concrete walls. Three iconic domes, covered with 489 copper panels, house a 12-inch Zeiss refracting telescope, 75-foot wide theater and a planetarium to educate the public about "celestial events." The theater is one of the largest in the world and the planetarium, invented in 1923, is only the third built in the U.S.
Century of Progress Architectural District—Beverly Shores, Porter, Indiana
The Chicago Century of Progress Exposition opens in 1933 and focuses on science as a catalyst for 20th century America. Ten furnished models of modern home designs use innovative and prefabricated construction, futuristic materials and appliances of tomorrow. Nine of the homes feature flat roofs "for sleeping at night and for sunbaths, loafing or general use by day." (image 1) Promoted as housing for every-man, the costs range from $3,500 to $25,000—a stretch for home buyers during the Great Depression.

After the Exposition, Robert A. Bartlett purchases 5 of the models and moves them to Beverly Shores in Porter, Indiana for his 3000-acre Lake Michigan subdivision development. Bartlett embraces modern architecture and the Century of Progress models to promote Beverly Shores as the place for the latest construction available. He believes the "model homes represent ... the most outstanding examples of modern home building, combining beauty and practical value. We believe they will have a decided influence on home building in metropolitan Chicago."
Construction innovations include:
Wieboldt-Rostone House is framed in steel and clad in the experimental material Rostone—a composite of shale, limestone and alkali produced in a variety of colors. (images 1, 2)

Florida Tropical House, a landmark in Beverly Shores with its bright pink exterior, blends the indoor and outdoor living space—an unusual concept in the Midwest. (image 3)

Cypress Log Cabin demonstrates the unique building qualities of cypress—a durable, colorful wood resistant to moisture, heat and insects. (image 4)

Armco-Ferro House is easily mass-produced and affordable (under $3,000). Made of corrugated steel panels bolted together, the structure resembles a cardboard box and can be placed on its bottom, side or top without damage. The steel panels are covered with porcelain-enamel produced by the Ferro Enamel Corporation. (image 5)

House of Tomorrow, influenced by European Modernism, is made of steel and glass. The curtain wall, a primitive passive solar heating system, reduces the need for mechanically produced heat in winter. The model is cooled by a revolutionary home-sized air-conditioner. (For the Midwest Bartlett replaces the glass walls with operable windows.) The first floor of the model is a garage/airplane hangar. Early 20th century futurists believe every modern American family will own a personal airplane. The second and third floor living spaces are built around a solarium. (image 6)

In 1983 the Beverly Shores/Century of Progress Architectural District is added to the National Register of Historic Places.