Designs for a Small Brick House Published
In 1925 the American Face Brick Association publishes the sixth edition of their The Home of Beauty: Designs for a Small Brick House. The book is a collection of "well rendered" and "meritorious" small house designs the professional group hopes will inspire and educate consumers and contractors to improve the quality of new American single-family homes. They also hope the competition and their publication will encourage a growing middle-class consumer to consider brick when building a residence.
A panel of well-known architects selects the best design ideas from a field of 400 entries submitted for a competition by architects and architectural draftsmen from across the country. (The competition is coordinated by the professional journal Architectural Forum, formerly The Brickbuilder and the Committee on Competitions of the American Institue of Architects.) Though Williams' entry for a "simple cottage" is not selected as one of the finalists, his rendering for House, No 150 is deemed worthy of inclusion in the 1925 publication.The editor's description of the Williams' design recommends clients and builders chose a northeast facing site "thereby providing morning sun in the dining room and a pleasant exposure for the living room and garden."
A note in the book's introduction states that working drawings/specifications and a list of materials are available to anyone for a $25 fee with proof that a "competent builder or contractor" had been secured.

Designs a Public School
It is announced in the Los Angeles Times that Williams is preparing plans for a 2-story brick grammer school. This school at 1314 South Dacotah Street opens in 1926.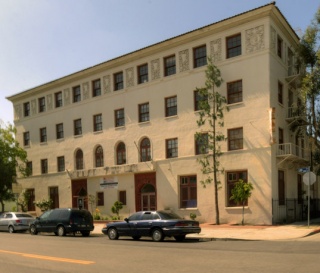 Proposed Y.M.C.A. Structure
Los Angeles Times, August 9, 1925
"This is to be the fourth plant owned by the Young Men's Christian Association of this city and will be built at the southeastern corner of Twenty-eight and Paloma Streets, at a cost of $175,000. It was designed by Paul R. Williams."
The 28th Street YMCA is currently under renovation. This photograph was taken in 2010 before renovation begins.