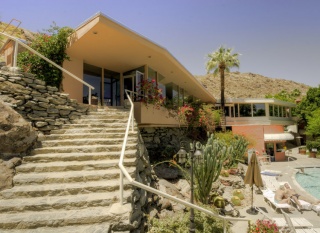 Tennis Club, Palm Springs
The 1947 Palm Springs Tennis Club additions are a joint design project of Paul R. Williams and A. Quincy Jones. From 1939 to 1940, Jones worked as an architect in Williams' firm, but by the time of this club redesign, they are collaborating as equals. Their vision transforms the existing club with its traditional tennis courts, swimming pool and dining room into a complex that fits naturally into the desert environment.
Appointed by Governor to State Agency
Governor Earl Warren recognizes Williams' character and integrity by appointing him to the State Redevelopment Agency. (1957 letter from the Governor of California in AIA file.)
Masterful Planning and Execution Mark Palm Springs Tennis Club Expansion
Southwest Builder and Contractor, May 23, 1947
"Under the guiding hands of Architects Paul R. Williams and A. Quincy Jones, Jr., Los Angeles, the Palm Springs Tennis Club recently underwent a remarkable transformation ... They solved many site-planning and design problems in a new and most interesting manner ... Liberal use of large glass areas was deemed a necessity for the complete capturing of a glorious view, and served as a method of literally tying the outdoors into the indoors."
Photographs and descriptions of this commercial remodel are published in contemporary magazines including Arts & Architecture, Progessive Architecture and Architectural Digest.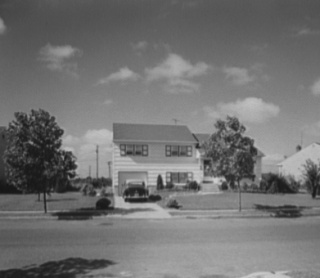 Levittown, Long Island, NY
On 1,200 acres of Long Island farmland, home builders Levitt & Sons begin work on their revolutionary vision for the American housing industry. Their dream is to become the General Motors of this industry. The Levitts reduce construction to its basic parts, skillfully moving crews from site-to-site as their task is complete. They are the first home builders to apply assembly-line principles to home construction on a massive scale. Reducing the per unit cost, they open home ownership to more Americans. The company brags that a Levitt home is "the best house in the U.S."
A Long Island potato field is named Levittown. Within three years 40,000 people move into 10,600+ houses priced at $7,990. Uniform in design, size and limited customization, the affordable homes change the antiquated housing industry. Levitt & Sons' methods of mass construction are copied across the country enabling builders to meet the postwar demand. Levittown is often cited as the beginning of the biggest housing boom in U.S. history.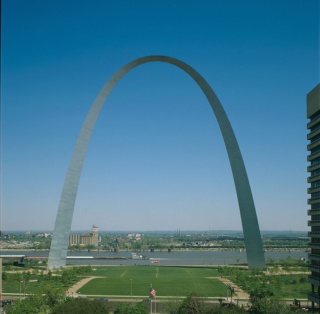 St. Louis Arch, The Jefferson National Expansion Memorial Arch
Luther Ely Smith, a St. Louis lawyer, envisions a riverside park to commemorate the city's role in opening the American West. He promotes the park to revitalize the blighted riverfront district and create jobs during the Great Depression. After World War II Smith raises $250,000 to finance an architectural competition for a design to symbolize American culture and civilization. In 1947 the competition jury unanimously selects entry 144, Eero Saarinen's design for a stainless steel arch with complementary landscaping.
Born in Finland, architect Eero Saarinen is not restrained by convention. His memorial design is inspirated by Thomas Jefferson's vision for America and the modern age. "The major concern...create a monument which would have lasting significance and would be a landmark of our time...Neither an obelisk nor a rectangular box nor a dome seemed right on this site...But here, at the edge of the Mississippi River, a great arch did seem right."
Construction of the Arch begins in 1963 and is completed in 1967. Saarinen's design is an inverted catenary curve, a shape similar to a heavy chain hanging between two supports. Based on a complex engineering design, the structure is built with no interior skeleton. The park encompasses 62-acres. The Arch is 630 feet tall, 630 feet from leg-to-leg and is covered by 886 tons of stainless steel plate with an inner skin of 2,157 tons of carbon steel.