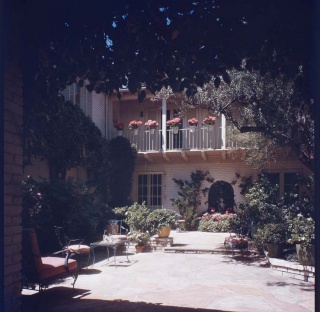 Williams continues to design homes for wealthy during Great Depression
Katherine Peachy hires Williams to design her house in Hancock Park—a development for wealthy Angelenos. Some of Williams' original design details could not be executed until 1933. Many building projects are down-sized because of the Great Depression.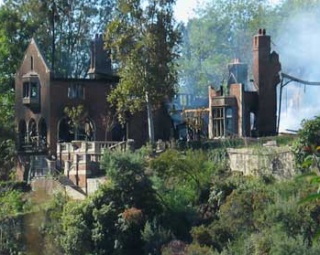 Atkin Residence
Jack P. Atkin moves into his luxurious 12,000 square-foot home, designed by Williams, in 1929 on the eve of the Great Depression. Atkin asks the architect to design a castle on a hill that would bring back "memories of his childhood in England." The 16-room Tudor Revival-style residence in Pasadena is built of brick with a slate roof. Williams utilizes expensive materials including oak, marble, custom designed stained and leaded glass, and "In-Vis-O" Roller Screens for windows—all at Atkin's request.
Atkin rents the property to movie studios and the house is the setting for the movies Topper (1937) and The Bells of St. Mary's (1937). The famous residence is destroyed in a 2005 fire. Photograph courtesy of J. Troutoux.
Honor Goes to Colored Architect
Los Angeles Times, December 1, 1929
Paul R. Williams Named to Board That Will Erect Negro Memorial

"Paul R. Williams, local negro architect, has been appointed by President Hoover to membership in the National Colored Memorial Commission which is to erect a memorial building as a tribute to the services rendered by the colored men during the World War ... It was through the efforts of the Chamber of Commerce that Williams's name was brought to the attention of the President."
Exhibitions Opened At Art Center
Los Angeles Times, December 2, 1929
"Two special exhibitions were opened at the galleries of the California Art Club in its Barnsdall Park Art Club yesterday, one of them being a collection of seventy canvases of the leading Negro artists of the United States ... This exhibition, which will be on view for the next two weeks, was secured for this city by Dr. Elzora Gibson. Three local artists are represented in it, Constance Phillips, Paul R. Williams and A.F. Taynes, the latter two of whom are also architects."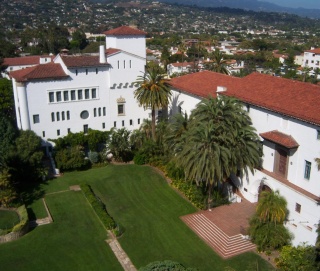 Santa Barbara County Courthouse
When the William Mooser Company is selected in 1926 to design a new county courthouse for Santa Barbara, it is the state's oldest architectural firm. Three generations of Moosers design many important public and private buldings in the San Francisco area. The youngest Mooser, William III, a graduate of the Ecole des Beaux-Arts in Paris and a 17-year resident of France and Spain, creates a new courthouse to replace the one destroyed in the June 29, 1925 earthquake. Architectural historians describe his design as "the greatest Spanish Colonial Revival structure ever built."
The L-shaped, stucco, terra cotta, sandstone building with wrought iron ornamentation opens in 1929. The courthouse inspires others in the Santa Barbara community to celebrate their Spanish roots and appreciate vernacular materials and craftsmen. (Vernacular architecture uses materials and ideas common to a geographic or cultural area.) The Spanish castle design, complete with a clock tower and extensive landscaping, remains the seat of government for modern Santa Barbara County.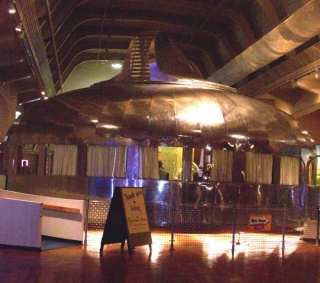 Dymaxion House
In 1929 Buckminster Fuller unveils a 3-ton prototype of his circular Dymaxion Dwelling Machine in Marshall Field's interior decorating department in Chicago. Fuller promotes the prefabricated structure of lightweight steel, duraluminium and plastic as a temporary, transportable living space and a product well-suited for mass-production techniques. The Dymaxion (Dynamicmaximumion) is Fuller's interpretation of Le Corbusier's architectural philosophy—a dwelling is a "machine for living in." The Dymaxion is a legendary futuristic design of the 20th century.
Richard Buckminster Fuller—philosopher, designer, architect, artist, engineer, teacher and inventor—is driven by his philosophy of creating "more for less." Though architects and the public are engaged by the Dymaxion House, only one full-scale residence is built in Wichita, Kansas. In the 1960s Fuller is embraced by American counterculture and environmentalists as the inventor of the multifunctional geodesic dome.