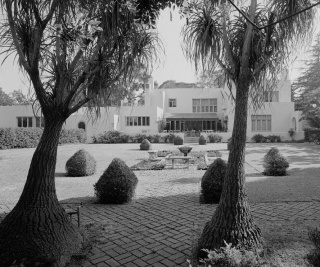 By 1913, Paul R. Williams is working in the firm of landscape architect/city planner Wilbur D. Cook, Jr. where he gains experience in integrating house and garden design plans. Cook's ideas influence Williams' designs and are evident in the extensive landscaping for the 1926 Baird/Stewart/Garza House.
Cook is known for his landscaping work in Southern California including the original gardens at the Beverly Hills Hotel, the City Park in Anaheim --now Pearson Park and Irving Gill's Dodge House. Cook recognizes Williams' superior drafting and drawing skills when he assigns him the task of creating the hand drawn perspective sketches for the park in Anaheim.
This photograph is a contemporary image of the Dodge House. Paul Williams' original illustrations for the city park in Anaheim are included in the Ralph D. Cornell Papers and can be viewed online via Calisphere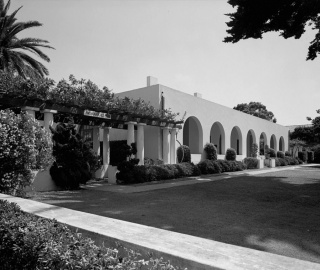 La Jolla Woman's Club
The La Jolla Woman's Club in San Diego is established in 1894 as a forum "to promote the intellectual and social culture of its members." With financial support from Ellen Browning Scripps, the members select architect Irving Gill to design a clubhouse in 1913. Influenced by the California mission-style, the clubhouse is one of Gill's most noted buildings. Gill is known for using an innovative tilt-slab construction system with reinforced concrete. The building is rectangular in form with simple arched openings and little decorative embellishment. The usable space is expanded through planned gardens and a series of pergola structures.
Gill describes his design aesthetic, "There is something very restful and satisfying in the simple cube...sheer and plain, raising boldly into the sky, unrelieved by cornices or overhang...I like the bare honesty..."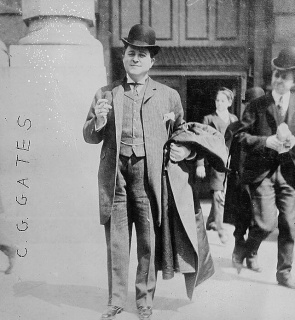 First Air Conditioning System in Private Home
In the U.S. early air conditioning systems are used to control humidity in department stores, food processing and other manufacturing plants. The equipment is big, loud, and uses ammonia, a toxic chemical, as the coolant. The first home air conditioner is designed in 1913 for Charles Gilbert Gates' million-dollar, lakeside, Minneapolis mansion. Gates, a flamboyant entrepreneur known for his large tips and love of fast locomotives, announces his plans to build a "cottage" for his new bride. Gates insists that the 38,000 square feet, stone-faced, Renaissance Revival-style residence has the best and latest of everything including America's first residential air conditioning system. Gates dies of "apoplexy" during a hunting expedition before his home is finished.
In 1945 Paul R. Williams writes new air conditioning technologies will be important for the future development of the American small home. The architect predicts that individual Precipitron cooling units combined with new insulation materials and all-weather windows will tame the heat of summer and open new geographic areas for development.