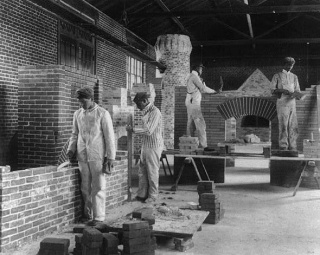 If I Were Young Today
The essay "If I Were Young Today" appears in Ebony, August 1963, in a series about successful African Americans reflecting on their careers. During the interview Williams talks about his career choice, "Architecture is the most fascinating profession in the world and one which I thoroughly enjoy." As a young man Williams knew of only one African American in the profession — Booker T. Washington's son-in-law William S. Pittman — when he decided to become an architect.
When Williams was deciding on his career path, the profession was almost exclusively white and male. African Americans were typically trained in the skilled building trades. In this 1899 photograph, students are learning bricklaying and masonry skills at the Hampton Institute.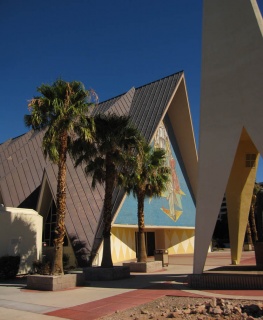 Lighting is Installed for Angel Shrine
Los Angeles Times, January 6, 1963
"Michael J. Garris & Associates, consulting illuminating and electrical engineers, announces the completion and installation of a power and lighting system designed by the firm for the St. Viator's Guardian Angel Shrine (Las Vegas). Paul R. Williams, FAIA, was architect for the structure ... The indirect lighting system is unusual, according to Garris. It conceals extremely narrow and shallow troffers which give the interior an overall light value of 15 ft. candle power. Lighting was used to highlight the mosaic wall mural at the front of the church and behind the altar."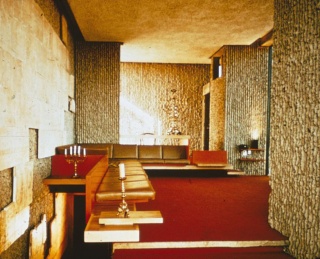 Art and Architecture Building, Yale University, New Haven, Connecticut
As president of Yale (1951-1963), A. Whitney Griswold, commissions many leading American architects—including Louis Kahn, Eero Saarinen and Philip Johnson—to redesign the university's campus. Griswold's vision is ambitious, "I don't need a master plan. I just need great architects." Paul Rudolph, chair of the Department of Architecture, designs the Art and Architecture Building (A&A). Griswold believes the A&A will be the crown jewel of the campus. Rudolph's concept is original and controversial from inception—"a tour de force of light, mass, and space, with great design attention lavished on every quirky corner." (Yale Alumni Magazine, February 1998)
The massive A&A, an example of the brutalism-style, is a 36-level building constructed of hammered, poured concrete made with a special aggregate of mica, seashells, stones and branches of coral. The building has both a tactile and optic quality. Yale architecture historian Vincent Scully describes the building's surface as "one of the most inhospitable, indeed physically dangerous ever devised by man...The building repels touch: it hurts you if you try." (Gray Room, Autumn, 2000)
Before the building opens in 1963, it is widely praised as an example of innovative modern design. Speaking at the building's dedication, however, British architecture critic Nicholas Pevsner shocks the attendees by criticising the Rudolph design. Though the building would win a First Honor Award from the AIA, it would be panned by many faculty and students who describe their studios as too small, too inhospitable and too inflexible. The building is viewed as a failure until the late 1980s when it is rediscovered by a new generation of Yale students and faculty.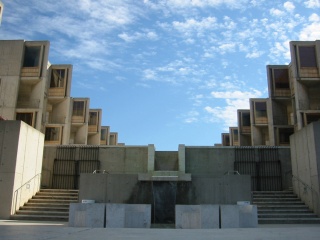 Salk Institute, La Jolla, California
Between 1840 and 1950s polio, a serious illness that can cause paralysis or death, is a worldwide epidemic. Scientist Jonas Salk develops a successful vaccine that helps eradicate the polio virus in the developed world. An international hero, Salk is able to fulfill his dream—creating a world-class, collaborative research center for the study of the biology of life. Salk selects La Jolla, California for his Institute and architect Louis I. Kahn to design the campus. The Salk Institute begins research activities in 1963.
Kahn, an important figure in modern architecture, works with other young architects forming the Architectural Research Group (ARG) in Philadelphia in the early 30s. ARG members are influenced by the ideas of contemporary European designers. Though the group disbands by 1934, Kahn's work remains influenced by progressive architectural philosophy. By 1960 Kahn is a long-time member and fellow of the American Institute of Architects.
To realize Jonas Salk's vision for an Institute fostering cross-disciplinary scientific collaboration, Kahn designs two mirror-image buildings flanking a courtyard. Each building houses a mix of laboratory space and support services. Towers with ocean views contain individual spaces for study and contemplation. To provide a welcoming, inspirational environment, Kahn harnesses light and space to create open, airy rooms. The architect's selection and use of pozzuolanic concrete, unfinished and unsealed teak, lead glass and steel are dramatic, durable and low maintenance.
The synergy of Salk's and Kahn's collaboration produces "a facility uniquely suited to scientific research." (www.salk.edu)