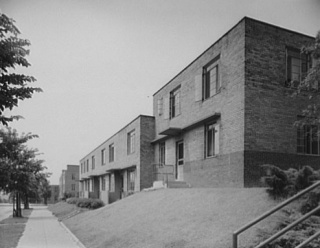 Begins work with Hilyard Robinson
In 1935 Williams becomes an associate member of the firm Hilyard Robinson and Paul R. Williams in Washington, D.C. where he is registered or licensed to practice architecture. He also becomes licensed in New York.
Together Williams and Robinson collaborate on many large projects including Langston Terrace (image) and buildings on the Howard University campus.
Square Shadows, Montgomery, Pennsylvania
In 1927 Philadelphia stockbroker William Stix Wasserman commissions George Howe to design a country house at Whitemarsh in Montgomery, Pennsylvania. Howe's initial design is a typical Georgian mansion. Wasserman appreciates the new International-style of architecture and asks Howe to re-envision his design combining elements of this new style with an aesthetic that allows the building to blend with the "quiet landscape." Square Shadows is Howe's attempt to stretch beyond his classical Beaux-Arts training and incorporate elements of this new architectural style with traditional home design and construction.
Square Shadows is one of the earliest successful American responses to the International Style. Today Gloria Dei Lutheran Church occupies the home.