Master Paul R. Williams graduates
The Freeman July 18, 1908 (Indianapolis, Indiana)
"Master Paul R. Williams, the adopted son of Mr. and Mrs. C. I. Clarkson, of Los Angeles, Cal., graduated with honor from the Sentons Street School of that city. He was the only colored pupil..."
The Gamble House, Pasadena
The Gamble House in Pasadena, California is the finest surviving example of the architectural work by Greene & Greene. The firm's California Bungalow-style residence is a summer home for David Gamble (Proctor & Gamble soap company) completed in 1908 for $50,000. The three-story vacation retreat is pegged and doweled, wood framed construction covered with olive green cedar shingle siding. Typical of the bungalow-style, the interior is spacious and open with oak hardwood floors, teakwood and mahogany paneling, lath and plaster walls. A local newspaper describes the home as "somewhat Japanese in feeling." In addition to the house plans, Greene & Greene provides the owner with furniture; all decorative hardware and lighting fixtures; and textile selections for rugs, curtains, upholstery from their artisan shop. Many of the windows have custom Tiffany glass panels.
The Gamble House is the setting for Doc's home in the 1985 movie Back to the Future.
The Greene brothers (Charles Sumner Greene and Henry Mather Greene) are the leaders in the American Arts and Crafts aesthetic movement and important in establishing Southern California as a center for this style. With an emphasis on craftsmanship instead of machined mass-production, their open, harmonious designs are a reaction to the clutter of the 19th century Victorian home. A perfect fit for the California climate, the Greene & Greene style is quickly adapted for other regions and spreads across America.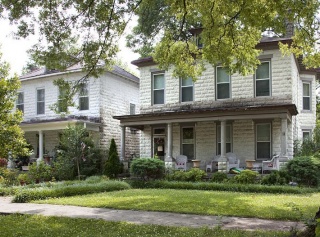 Sears Book of Modern Homes and Building Plans
The Sears Catalog is an icon of American business. Founded by Richard Warren Sears and Alvah Curtis Roebuck, this mail order business is a revolutionary retail model before the advent of the chain store. Through the catalog the company sells everything for home, farm and family to anyone with a mailbox.
In 1908 Sears issues the first speciality catalog for houses—Book of Modern Homes and Building Plans. The Modern Home catalog advertises three separate lines of homes featuring 22 architectural styles for customers with different financial means. The hundreds of choices and combinations encourages the buyer to custom design his house. Mass-production and precut/prefitted materials shrink the construction time and costs making home ownership possible for more Americans. With prices from $650 to $2,500 Sears offers the home buyer a complete package: design plans, building materials, fixtures and "no-money-down" financing. By 1930 the catalog proclaims Sears as the "World's Largest Home Builders." From 1908 until 1940, Sears sells over 100,000 ready-to-assemble houses.
Sears' Modern Homes catalog becomes the model for merchandising prefabricated buildings. Paul R. Williams designs plans for the 1930s Lea Steel Home catalog that are used in the construction of El Reno Apartments. His catalog plans are also all inclusive.