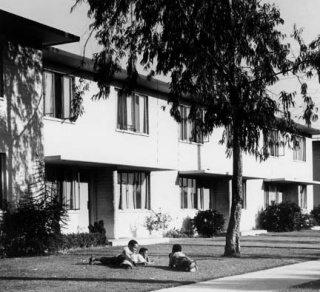 Pueblo del Rio opens
Williams is known for his residential work, but he also works on public housing projects in Los Angeles and Washington, D.C. Pueblo del Rio is one of the first projects of this kind in Los Angeles. Architectural materials are scarce because of military conflicts in Europe and the Pacific, but the Southeast Housing Architects (Williams, Neutra, Wilson, Wurdeman, Becket, Kaufmann) completes this project within the budget, on time and using alternative materials. Pueblo del Rio is a model for public housing around the country in the 1940s.

The landscaping is simplied to save money, but the architects preserve some aspects that are functional as well as attractive: vegetable gardens, seeded lawns and fruit trees. (Architect and Engineer, September 1942).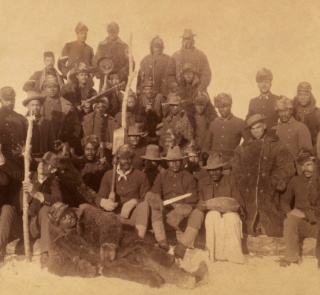 War time projects
During World War II, private building projects are scarce and many firms shut their offices. Williams closes his practice and devotes his efforts to projects supporting the military and war effort. Williams' work at Fort Huachuca, Arizona, is an example of his war-time work.
Fort Huachuca, an early 19th century frontier calvary post near the Mexican border, is home of the famed 10th Calvary ("Buffalo Soldiers"). These soldiers are members of one of the Army's elite African American divisions. During World War II many other African American servicemen train at the fort.
In 1942 Williams designs 125 housing units for the Army at Fort Huachuca, part of an intensive, 18-month building program. An African American company hires Williams in 1943 to design an amusement center for the soldiers in nearby Fry, Arizona. Because of the center's domed oval roof, the restaurant/bar is popularly known to the soldiers as the Greentop. The building includes a 6400 square feet dance-floor and the bar is decorated with a series of 7 original murals by Chicago artist William E. Scott with the theme New Peace With Victory. An adjacent 50 room dormitory is designed for married officers and their wives. While hard liquor is not served at the Greentop, it is reported that the soldiers drink over two train carloads of draft beer monthly.
The Chicago Bee, a popular African American newspaper of the time, sent a writer to Arizona to report first hand on Williams' work at Fort Huachuca. He describes the Greentop complex as "the finest Army Recreational Center (barring none) in the United States." (March 28, 1943)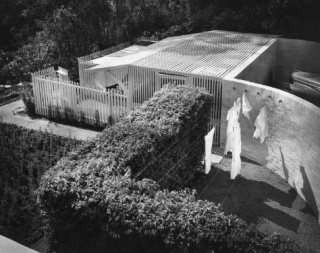 Bel-Air Gardens Tour Set
Los Angeles Times, March 14, 1942
Exhibit of Famed Estates to Benefit Red Cross Unit
"On the itinerary will be the gardens of Mr. and Mrs. Paul Whittler ... showing a victory garden of vegetables and even poultry to add to the rural effect, ... Mr. and Mrs. Manfred Meyberg of Copa de Oro Road, nationally known for its pansy lawns..."
Meyberg is a pioneer in American landscaping industry and owns one of the largest garden supply companies in Southern California. For decades he works with Mary Louise Schmidt to organize the California House and Garden Exhibit, an important yearly residential home and garden show in Los Angeles, to promote gardening, landscape design and horticulture. In 1928 Williams designs the Meyberg home where the landscaping and gardens were important features. Around 1948 Maynard L. Parker photographs the landscaping for House Beautiful. (image, The Huntington Library, San Marino, California)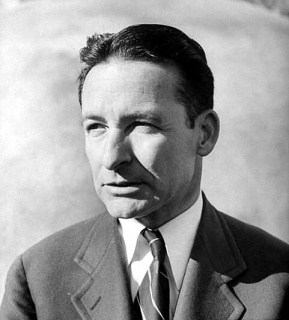 Wallace Neff Invents Airform
Wallace Neff is a California architect known for designing elaborate Spanish Revival-style homes for movie stars in the 1920s and 1930s. He is the first American designer to be called "architect to the stars" by the popular press. He designs mansions for Judy Garland and Groucho Marx and remodels Pickfair, home to Douglas Fairbanks, Sr. and Mary Pickford. Neff considers the Airform (bubble house) his greatest contribution to American architecture. Built without wood or nails, the buildings are constructed of inflated Goodyear Neoprene nylon balloons covered in a "hardening" material and insulation. In the final step of construction the balloon is deflated and removed through the doorway leaving a half-bubble form. Neff describes his Airform structures, a 1942 invention, as "a revolutionary method providing for a low-cost, labor-saving process of extremely rapid construction of permanent houses and buildings." Constructed in a matter of hours instead of weeks, Airforms are an example of modern design available for "the least money using materials that were plentiful." (Jeffrey Head. No Nails, No Lumber: The Bubble House of Wallace Neff, 2011)
In 1953-1954 Paul Williams collaborates with Neff on a proposal to build 1,000 affordable Airform houses in Las Vegas, Nevada. Their vision is a development of small homes (each 1,000 to 1,200 sq.ft.) open to all races. The architects believe the bubble houses are an inexpensive solution to the housing crisis in the area. Williams prepares the architectural renderings. Unfortunately the unconventional bubble shape construction proved a hard sell to the growing middle-class residential buyer.
Corresponding with Keith White, an executive involved with the project, Neff writes, "Paul Williams, a colored architect in Los Angeles would be the best one to put this deal over. He is one of the members of President Eisenhower's committees on housing, I think he is the only one that could steer this project to a successful completition." (Neff Archives, Huntington Library)
Their proposed housing project is never realized.
(Thanks to Jeffrey Head for his insights on Neff, AIRFOM and Paul R. Williams.)
Aluminum City Terrace, Westmoreland, Pennsylvania
Construction on the 250-unit federal housing project Aluminum City Terrace begins in 1942. Architects Walter Gropius and Marcel Breuer design the International-style complex for defense workers imported from around the country during World War II. These workers are employed at an Alcoa aluminum mill. Aluminum City Terrace, an early example of the hundreds of low-cost housing units to be built around the country, is opposed by the local community. They liken the new Gropius/Breuer architectural plans to cold, impersonal "chicken coops" that might lower their property values. Over time community attitudes change and Aluminum City is embraced as a successful housing experiment of high quality construction and careful siting addressing the needs of modern workers.
In 1949 the Aluminium City Terrace units are sold to the renters, financed by the goverment's Mutual Home Ownership Plan. The complex functions today as a successful cooperative.