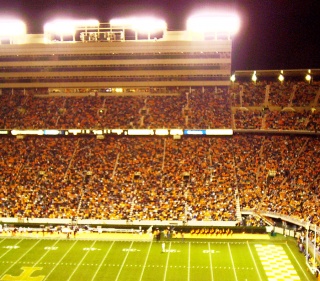 When he is 6-years-old, Williams attends Sentous Avenue Grammer School on Pico Boulevard. He writes about this school later in his life and says that he is the only African American student in his class.
In the 1900 U.S. Census Los Angeles is ranked 36th in the nation based on population. Slightly more than 102,000 residents live in Los Angeles and of that number only 3,131 are Negroes.
As a comparison, Neyland Stadium at the University of Tennessee, Knoxville, seats 102,000.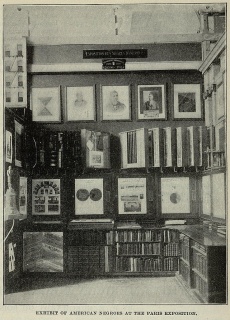 The American Negro At Paris As Reported by W.E. Du Bois
The American Monthly Review of Reviews, Vol. XXII, 1900
"On the banks of the Seine ... stands a large, plain white building, where the promoters of the Paris Exposition have housed the world's ideas of sociology. As a matter of fact, any one ... would be rather disappointed at the exhibit ... The United States section of this building is small, and not, at first glance particularly striking ... In the right-hand corner, however is an exhibit which, more than others in the building is sociological in the larger sense of the term ... This is the exhibit of American Negroes, planned and executed by Negroes ... We have thus ... an honest, straightforward exhibit of a small nation of people, picturing their life and development without apology or gloss, and above all made by themselves."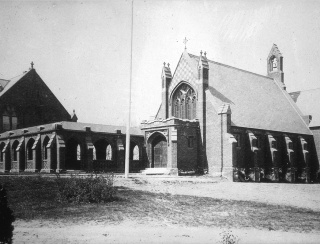 Troy Orphan Asylum, chapel, Troy NY
Herbert Langford Warren, an MIT educated architect, designs the Troy Orphan Asylum chapel in Troy, NY—an example of Gothic revival-style architecture.
As a young man, Warren travels in Europe and England studying, sketching and measuring country churches. Many of these churches are destroyed during World War I. Warren wants to recreate this style of church in America. Warren is described by his contemporaries as a "Goth at heart" eventhough he works in H. H. Richardson's office, an architectural firm known for Romanesque style. (Proceedings of the American Academy of Arts and Science, 1933)
Warren helps develop the Architectural School at Harvard.