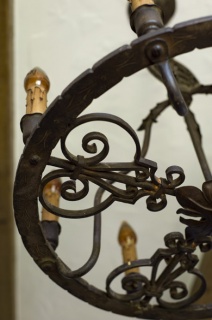 Williams' Contributions to Los Angeles Architectural History Appreciated
Modern owners of vintage Paul Williams' residences located in historic residential developments show their appreciation and pride in living in one of his homes by allowing non-profit organizations to conduct fundraising tours. In November, 1969 a classic Williams Spanish Revival mansion in Flintridge is one of five homes the Pasadena Symphony Association includes in their annual Holiday Tour.
To create interest in the fundraiser, Los Angeles Times writer Kim Blair interviews Williams about how he created his personal interpretation of Spanish Revival architecture. Williams states, "We were trying to bring back the Spanish feeling to Southern California and for those who wanted something more opulent than the Mission styles we borrowed ideas from the entire Mediterranean area."
Blair notes the rich architectural details still evident in the Williams designed home including paneled walls of rare woods, carved cornices, beamed ceilings, custom grill work, arched windows and doors and a wonderful flow to the formal public rooms. She adds— "Few artisans today are still doing the elaborate wood carvings, carved mansonry and the delicate wrought-iron work which marks the Mediterranean homes built during the 20s." Though these details are impressive to her modern readers, they are also hallmarks of a classic Williams Spanish Revival design.
The current owner Mrs. A.W. Horton states. "Even if one could find the craftsmen to do such work, the construction cost would be almost prohibitive." (Los Angeles Times. November 16, 1969)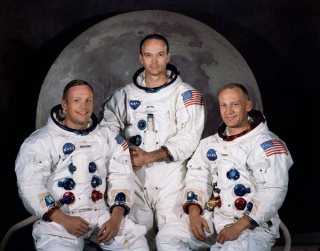 Astronauts Honored at West Coast State Dinner
Jet, August 28, 1969
"At the first State dinner ever held outside the White House were two Negro couples from Los Angeles: Architect and Mrs. Paul Williams and Comedian-Actor and Mrs. Eddie (Rochester) Anderson. Musician and Mrs. Lionel Hampton also attended...A White House spokesman said each of the invited guests was 'a dignitary in his own right.' "
Official NASA photograph of the Apollo 11 astronauts (l to r): Neil A. Armstrong, commander; Michael Collins, command module pilot; and Edwin E. Aldrin, Jr., lunar module pilot.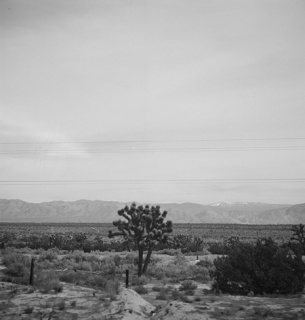 Royal Inn To Be Built in Victorville
Los Angeles Times, October 19, 1969
"Developer Paul R. Williams announced that plans are being drafted for a 125-unit Royal Inn northwest of Interstate 15 and Palmdale Road that will represent a $1.2 million investment... The project is one of the few 'high-rise' buildings in the area."
Even in the 1960s Victorville, California is not fully developed. This early photograph shows the landscape.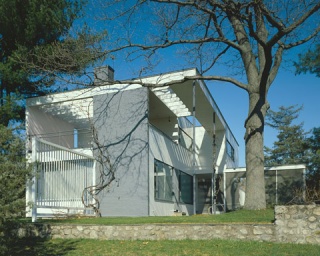 Walter A. Gropius Dies
Walter Gropius is often considered one of the founders of modern architecture. An influential teacher and writer in Germany and the United States, Gropius stresses the importance of collaboration and teamwork in the archtectural process and founds The Architects Collaborative (TAC) in 1946.
Gropius dies in 1969 and asks his friends, collegues and students to celebrate a fiesta, not a funeral. The celebration is held at the offices of the TAC and this testament by Gropius is read:
"Cremate me but ask not for the ashes...Wear no sings of mourning. It would be beautiful if all my friends of the present and of the past could get together ...drinking, laughing, loving. Then I shall surely join in more than in life." Los Angeles Times, July 8, 1969
Image: Gropius House, Middlesex County, Massachusetts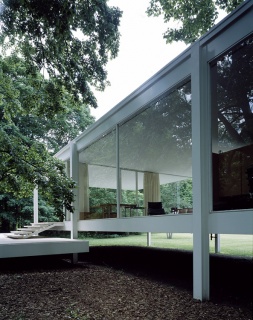 Mies van der Rohe, Important Modern Architect Dies
Architect Mies van der Rohe dies in August 1969. Mies along with Frank Lloyd Wright, Le Corbusier and Walter Gropius change the public's perception and acceptance of architecture in the 20th century. While these other big names of architecture experiment with new shapes and forms, Mies perfects his simple, neo-classic style. His vision of architecture for the new industrial age is one of skyscrapers entirely enclosed with glass for utmost "structural economy and clarity and to do this so perfectly that the world of our creation will blossom from within."
Born and educated in Germany, Mies becomes director of the Bauhaus School of Design after Walter Gropius resigns the position in 1931. In 1938 he too emigrates to the United States and becomes the head of the architecture department at the Illinois Institute of Technology. His deceptively simple "glass box" designs are imitated by lessor architects across the country.
Image: Farnsworth House, Plano, Illinois