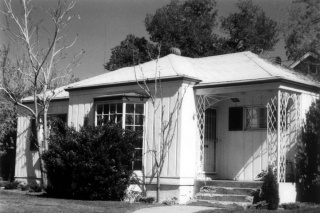 Becomes a Spokesman for New Building Technology
By 1936 modular steel housing is more than an experiment. Williams becomes the consulting architect for Lea Steel Homes of Los Angeles. His plans are featured in the Lea Steel Homes catalog and advertisements. Williams designs and builds a model Lea Steel Home for the 1934 Los Angeles House and Garden Show.
From a 1936 Los Angeles Times advertisement: "If you can buy a home of any kind, you can buy a Lea Steel Home ... resistent to damage by fire, termites, dry rot, termites and earthquakes ... Paul R. Williams, Consulting Architect."
Roland Giroux selects the 1934 House and Garden Show model for his El Reno Apartments, Reno, Nevada. (image)
Book Features Homes
Lewis Storrs, Jr. illustrates his book The Key to Your New Home: A Primer of Liveable and Practical Homes with photographs of the built designs by important California architects. Williams' residences are featured in this book. Storrs believes that "awkward and superficial copies of historical styles of architecture have proved themselves unsatisfactory" in the 20th century. It is more important to build a house expressing the personality of the owner rather than forcing the owner to adapt to a classical formula of mathematical design. With this approach a house is developed from the inside-out.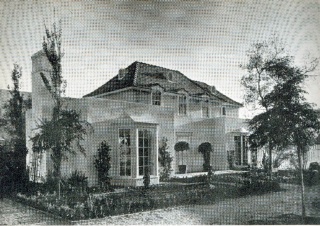 California House and Garden Exhibition
The California House and Garden Exhibition in Los Angeles is the original idea of Mary Louise Schmidt, director of Architects & Engineers Service. One of the first in the country, the exhibition showcases the latest developments in residential construction and equipment. Six demonstration homes, designed by prominent architects in Southern California, are constructed. Pictured here is Paul Williams' French House as published in The 1938 Book of Small Houses. Williams' designs two of the demonstration homes for this exhibition. Both are featured in photographic essays in Architectural Digest.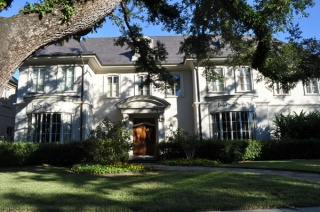 New Orleans House Based on Williams' Model French House
From the 1930s through the 1950s, O.E. Hering owns a large car dealership located on Canal Street in New Orleans. With his financial success, Hering and his wife purchase a lot in Old Metaririe on Vincent to build a home reflecting their improved social standing. Metairie is an early up-scale property development outside of New Orleans. After seeing photographs of the Paul Williams' exhibition French House in Architectural Digest, Mrs Herings urges her husband to send a local architect to Los Angeles to confer with Williams and copy his model home. Mrs. Hering insists her new home is to be a "faithful copy" of the original French House.
After the Herings are divorced, the house is left vacant. Though needing considerable restoration when they purchase the house, the current owners immediately fell under its spell—the dramatic circular staircase, skylights, oval dining room, carved niches and the natural flow of the rooms—all hallmarks of a classic Williams' house but a style not common in New Orleans.
Interviewed for a recent article profiling their residence, the owners discuss their devotion to their house and the unknown California architect who designed it, " I didn't know much about the house until I was clearing out the attic and discovered the original architectural drawings and an issue of Architectural Digest from the 1930s. I didn't realize the plans and the magazine had anything to do with each other until later, when I flipped through the magazine I realized that one of the houses looked a lot like ours."
In 2001 the owners embark on an expansion of the house but only after detailed photographs are taken and original materials salvaged for reuse. The renovated and updated house is based on the original plans found in their attic many years before. Now considered an architectural landmark in Metairie, the owner muses on the complicated history of his home, "It all began when Mrs. Hering was inspired by those pictures over 70 years ago."
S.C. Johnson & Sons Co. Building and Research Tower, Racine, Wisconsin
Herbert F. Johnson, Sr., son of the founder of S. C. Johnson & Sons Corporation, hires architect Frank Lloyd Wright in 1936 to design the company's headquarters in Racine. Johnson believes "going to work in a work of art is a great inspiration." Architectural historians call Wright's design the "most original system of cantilever-slab construction ever built."
Because Wright's plans for the administrative complex are revolutionary, skeptical county commissioners delay granting construction permits. Wright builds a demonstration mushroom column (wire mesh welded into a cone) for a strength test by engineers. His unconventional design is proven safe and permits are granted. The building opens in 1939. Architectural historian Sigfried Giedion describes Wright's design as "...circular discs which seem to float like leaves of giant water lilies among the tubes of heat-resisting, Pyrex glass...Most of the pillars carry nothing but the air above them."
Wright designs a second building—the 14-story brick and Pyrex tubed research tower (1947-50). Floors are cantilevered from a hollow central core containing the elevator, stairway and utilities (far R image). This core along with the floor slabs and foundation are cast as a single unit, a first for this type of construction. Wright designs all furnishings for the interior space.
Often cited as some of the most beautiful office buildings ever built, the entire campus is added to the National Register of Historic Places. The Park Service describes the buildings as "outstanding 20th century statements using light and plasticity of form to create a new concept of space."
Still in use today, S.C. Johnson Co. considers the Wright designed complex a work of art and their "corporate cathedral."