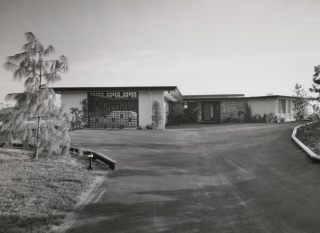 50 Years of Home Design
Nearing his retirement from active practice, Paul R. Williams' abilities as a master of California elegance are recognized by influential Los Angeles interior designers—a 1934 estate from his "bygone days" is selected as the 1970 Design House West. The decorators refresh the interior of the 30-room Barrick mansion on Ambazac Way and bring it back to "modern-day life." Public tours of the house are a fundraiser for various cancer-related charities.
To publicize the event Los Angeles Times writer Maggie Savoy interviews Williams. In the lengthy article the architect reminisces about his work with famous and powerful clients and the importance of their individual psychologies in personalizing the design."People don't always know what they want. It is the architect's job to help them find it, and keep within the bounds of grace." Williams' tact, refined taste and ability to design a home, no matter the size, became his signature. Looking back on his professional career, Paul Williams' interview with Savoy is an excellent summary of his aesthetic and work philosophy.
This photograph shows Williams' design for one of his important 20th century celebrity clients—Frank Sinatra. This example of chic midcentury architecture is now torn down.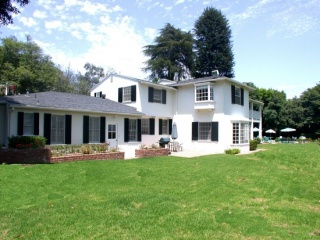 Alumnae To Host Tour of Estate
Los Angeles Times, October 16, 1970
"Valley Alumnae Club of Pi Beta Phi will host a luncheon and tour of Design House West on Thursday at 10:30 a.m. Members will view the 42-year-old estate...which was designed by architect Paul Williams." [image]
In 1973 Williams begins designing a sorority house on the USC campus for Pi Beta Phi. This is one of his last commissions before retiring from his practice.