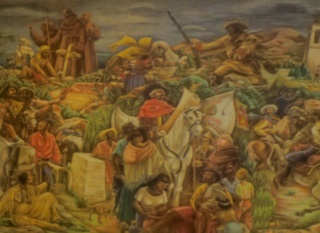 Coming to California
Los Angeles Times, June 5, 1893
John S. Lovell arranges to bring African Americans to California from the South in the belief that "there are too many colored people in the South and they need to go to newer States and Territories to get homes."
Plentiful and inexpensive land provides opportunities for African American emigrants moving to Los Angeles.
Hale Woodruff and Charles Alston paint murals illustrating African American contributions to California history. The 1949 murals depict these early California emigrants in Paul R. Williams' designed Golden State Mutual Life Insurance Building.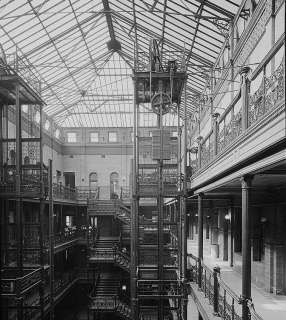 Bradbury Building, Los Angeles
George Herbert Wyman designs the five story Bradbury Building in Los Angeles for mining tycoon Lewis Bradbury. The structure is designed with a glass roof that fills the inner court with natural light. The open stairways, elevator cages and ornate balcony rails are all decorated with fantastic art nouveau iron work. The decorative details are reminicent of the 19th century European Cast Iron Age. Wyman's design for an off-street and protected public space at the center of the building is ahead of the time. Wyman designs other buildings, but the Bradbury is his greatest success.