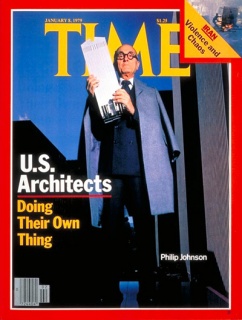 Philip Johnson "The Philosopher Architect" Profiled
Time, January 8, 1979 "Doing Their Own Thing: Goodbye to Glass Boxes and All That."
"Anybody who makes a progostication's a damned fool. I've done it and I know it's always, always wrong...The greatest challenge in the next century in architecture? Just the continual anguish and reform and replanning and nobody, nobody knows what strange changes are going to take... And now the kids! We have a wonderful generation coming, twisting it all out of what an older person would think was shape. But they're doing it with such panache, with such verve, with such delightful humor, that a whole new panoply of architecture's opened up."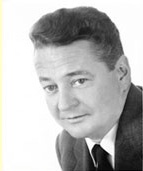 Architect A. Quincy Jones dies
After receiving his Bachelor of Architecture from the University of Washington, A. Quincy Jones works for Paul R. Williams from 1939 to 1940. In 1945 Jones opens his own architectural practice but continues to collaborate with Williams for decades on more than 20 projects including the Palm Springs Tennis Club (1947), Town and Country restaurant (1948), proposed Coconut Island Club International (1946) and Pueblo Gardens, a large Del Webb housing project built in Arizona during the 1940s and 1950s. Both men believe in the importance of small home ownership for American society.
Williams and Jones bring unique skills and strengths to their relationship. John Crosse, a Southern California architectural historian, notes that reading personal correspondence between the two men indicates they "obviously had a mutual respect for each other." At the start of his practice Jones asks his mentor for advise on a variety of residential projects. Crosse states, "The association between Williams and Jones worked pretty much like this: Williams got the clients and Jones did the design and construction oversight, a win-win for the duo." (SOCALARCHHISTORY 12/13/2009)