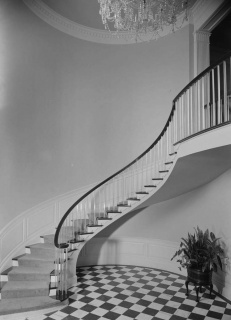 Architectural Problems Told
Los Angeles Times, March 24, 1938
Paul R. Williams gives views on style and design
"Ornament is what dates a building ... In designing all kinds of buildings, I have found it better to rely on good proportions in design to attract attention. The factors that do not tire the eye are those which do not easily become antiquated."
He continues "... today, discriminating home owners demand an abode that reflects their own personality, satisfies their own particular needs, as well as meeting the ordinary requirements of a well-built home."
This article describes a similar philosophy for commercial buildings. "... Williams studies the type of business to be served and adapts the entire structure to meet its requirements ... the recently completed California offices of the Music Corporation of America ... in a similar manner combine decorative and functional features in its design."
Music Corporation of America (MCA), 1939. Photographer: Maynard L. Parker, The Huntington Library, San Marino, California.
Trinity Church Faces Busy Week
The Spartanburg Herald, Spartanburg, South Carolina, March 14, 1938
Members to Begin Building Program Here Wednesday
"Contract for construction of the building was let several days ago to the Fiske Carter Construction company, and the preliminary work of clearing off the site of building was begun last week. Paul Williams is the architect ... The new building will be of Gothic design."
Housing Affairs Deeply Studied
Los Angeles Times, August 21, 1938
California delegation at International Congress in Mexico
"With housing and city planning looming large in the affairs of the day, the studies and analyses at the sixteenth International Housing and Town Planning Congress, which ended its week of sessions at Mexico City yesterday, are expected to have marked international influence." Paul R. Williams is among the delegates.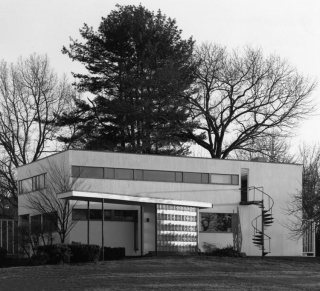 Gropius House, Middlesex County, Massachusetts
Mrs. James J. Storrer donates 5 acres to German emigre architect Walter Gropius for his family home. Gropius, leader of Germany's influential Staaliches Bauhaus (1919-1928), flees a hostile German government in 1934 and joins the faculty at Harvard, Graduate School of Design.
The Gropius House is built in 1938. The design is attributed to Walter Gropius and Marcel Breuer, with input from Gropius' wife and daughter. The wood, painted brick and fieldstone house is inspired by traditional box-like New England buildings that Gropius finds "unpretentious and geniune in plan and appearance." He adds sculptural Bauhaus elements—an exterior metal spiral staircase, glass block wall at the entry, chrome details, and vertically-hung clapboard. Gropius sites his home with views of planned and natural landscapes as design elements. Historians now equally value the landscaping and the building as important reflections of "modernist spatial philosophy."
The architectural design and interior furnishing for the Gropius House are inspired by the Modernist or International-style. In a 1932 Museum of Modern Art (New York) exhibition catalog, the aesthetic principles of the International Style are explained to American audiences by Henry Russell Hitchcock, Jr., and Philip Johnson: "A sense of volume as opposed to solidity, regularity as opposed to symmetry, and detail achieved through intrinsic elegance of materials, technical perfection, and fine proportions as opposed to applied ornament."
Magazines and newspapers write extensively about the Gropius House while scores of Harvard students participate in the design and construction. The house creates a public appreciation for the International-style in America. While not the first Modernist or International-style home built in this country, the Gropius House is the most influential.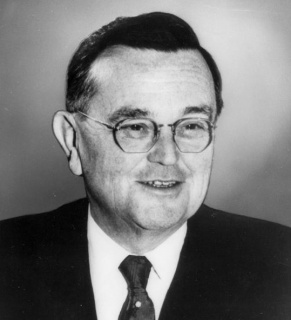 Fiberglas
The Architect's Notebook in Paul R. Williams' The Small Home of Tomorrow (1945) describes the importance of using the best insulation materials in a "successful postwar home." In 1931 Russell Games Slayter, an Owens-Illinois Company employee, realizes the value of the crude glass fibers floating in the air and hanging from rafters in the company factories. Throughout history many incorporated glass with other materials, but Slayter is credited with the title of "Father of Fiberglass." Owens-Illinios merges with Corning Glass in 1938 to form Owens-Corning Fiberglass and manufacture glass fiber insulation a product that improves residential heating/cooling efficiency. With this insulating material available during the post World War II building boom, homes are built in environments previously considered too cold, hot, dry or humid.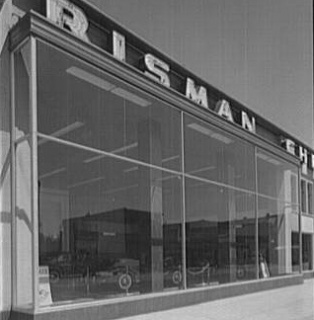 Herculite tempered glass
The Pittsburgh Plate Glass Company (PPG) opens in 1883 and is the first successful American manufacturer of high-quality, thick glass. PPG continues to improve their glass production process and the glass becomes thinner and more affordable for commercial and residential buildings. In 1907 the company opens its first window-glass factory and by 1928 begins producing sheet glass. PPG's Herculite, developed in 1938, is a tempered glass four to five times stronger than ordinary plate glass. The large sheets of safer Herculite are a new building material and inspire architects to design glass-clad buildings. Architects can now create buildings with large display windows as an architectural element introducing natural light and providing unobstructed views.