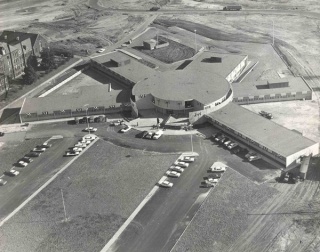 St. Jude Event Set To Salute Its Designer
The Commercial Appeal, March 19, 1972
"Paul R. Williams, architect and designer of St. Jude Children's Research Hospital, will be honored at a dinner May 17 which will observe the hospital's 10th anniversary...Edward F. Barry, chairman of the St. Jude board of governers, said in announcing the dinner, 'It is a token of appreciation for the generosity of Mr. Williams, who did not charge a penny for all the work he and his firm did in designing the hospital.'"
This photograph taken in 1962 for the Memphis Press-Scimitar newspaper, is an aerial view of the completed hospital. Very little of the original building survives today.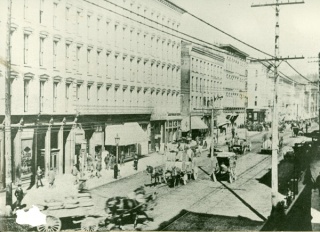 St. Jude hospital architect to be honored
Tri-State Defender, April 1, 1972
"Williams said he regards St. Jude Children's Research Hospital as the most 'satisfying' building he ever designed because of the work done in it...Williams' roots grow from Memphis to his home in Los Angeles...His father was headwaiter at the Old Peabody Hotel until he moved his family to Southern California before the turn of the century. His mother was a native Memphian, too."
This is how the Peabody Hotel (building on left) looked when Chester Williams worked there as a waiter from 1884-1893. It was located at Main and Monroe.