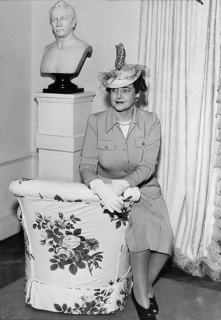 Thoughts on the Role of Interior Decorators
In an interview in 1970 with the Los Angeles Times' Maggy Savoy, Williams discusses his philosophy of design: "...know when to quit ... People don't always know what they want. It is the architect's job to help them find it, and keep within the bounds of grace."
When starting a project, Williams prefers to employ the ideas of an interior designer early in the process. In his career Williams works with many important designers and design companies: Harriet Shellenberger (image), Bullocks of Los Angeles, Frank Baden of Webber Spaulding, Dorothy Draper, Edward F. White, Paul Laszlo & John Luccareni.
Sorority's Westwood Home Built
Los Angeles Times, April 27, 1930
Chapter House Reflects California and Colonial Influences
"Alpha Delta Pi Sorority house on Hilgard avenue, Westwood Hills, is declared to be one of the best examples of California-Colonial on sorority row at U.C.L.A. ... Frank Baden of Webber and Spaulding, the interior decorator, carried out the Monterey atmosphere in Spanish hand-carved benches and tables, parchment shades, damask-covered chairs, colonial fixtures and etchings."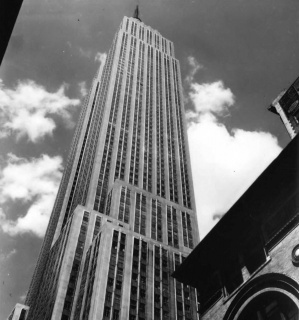 Empire State Building, New York
In the 1920s automobile magnates Walter Chrysler and John J. Raskob (General Motors) race to see who can build the taller building. Chrysler hires architect Walter Van Alen to design his project (the Chrysler Building). Raskob, investors and former N.Y. Governor Al Smith team-up to build the Empire State Building. Their building, by architect William Lamb, is 1,454-feet (1/5th of a mile and 103 floors) and surpasses the recently completed 1,046-foot Chryser Building.
Construction of the Empire State Building starts on January 22, 1930 during the Great Depression and employs more than 3,000 men. In 410 days the workers lay 10 million bricks and 200,000 cubic feet of Indiana limestone. This Art Deco skyscraper is considered an engineering masterpiece supported by an elastic steel skeleton.
On May 1, 1931 President Herbert Hoover presses a button in Washington, D.C. turning on the lights and officially opening the building. Al Smith describes the Empire State Building: "A building designed, fashioned, built by the brains, the brawn, the ingenuity, and the muscle of mankind."
Considered Lamb's finest work, he is awarded medals of honor by the American Institute of Architects and the Architectural League for his "masterful treatment of an office building" in 1931.