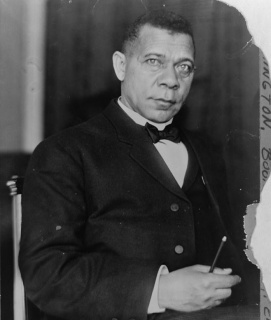 Washington Invited to White House for dinner with President
Los Angeles Times October 21, 1901, "Southerners Are Not All Superheated"
Booker Washington Incident Greatly Magnified. President Did Not Invite Him in Order to Establish Rare Equality--Many White People in the South Congratulate Him.
Los Angeles Times October 28, 1901, "The Memphian 'Storm Center'"
According to the Memphis Commercial Appeal, that city is "the storm of indignation" on account of the acceptance by Booker T. Washington of an inviation to dine with the President.
Washington's Up from Slavery is published and he is invited to the White House for dinner by President Theodore Roosevelt resulting in both positive and negative news reports across the country.
Washington, a founder of the Tuskegee Institute in Georgia, is considered the most important African American educator of the 19th century. Paul R. Williams acknowledges the importance of this African American hero by including a bust of Booker T. Washington on the facade of his 28th Street YMCA designed in 1926.