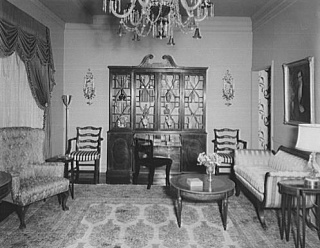 Paul Williams Designs Ultra Modern Home Furnishing Store
The March 1951 issue of Architect and Engineer describes Paul Williams' design for the new Beverly Hills branch of the W. J. Sloane store. The magazine describes the five-story building on Wilshire Blvd as having "many merchandising and display facilities that are unique in the home furnishing field." (This photograph is a typical staged Sloane room decorated with merchandize from the store.) His design work for this store starts in 1948 and is complete in 1951. It includes window displays that can be positioned into place by elevators, underground parking for 150 cars and a model home built within the store "that will feature the latest in correlated groupings of all types of furnishings."
The store is built by Del E. Webb Construction Company and is an example of their collaborative work with Paul R. Williams.
Honored in Community
Williams, along with two others, is honored at a banquet sponsored by the National Conference of Christians and Jews. He is recognized for his efforts to promote brotherhood in the Los Angeles community. "Williams, an internationally known architect, is a member of the board of directors of 14 organizations and corporations and is known for his interests in the YMCA and the Boy Scouts of America." (Los Angeles Times, December 12, 1951)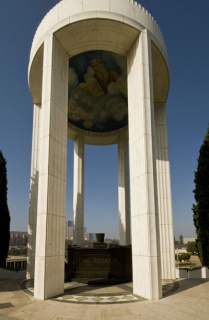 Jolson Monument Approved By Court
Los Angeles Times, February 8, 1951
Memorial First Proposed by Singer's Widow Will Take $84,000 from Funds of Estate
"The monument designed by Paul R. Williams, Los Angeles architect, will cost $75,000 ... 'I wouldn't like to see this order become a precedent,' said the judge in approving the petition. 'But in this case involving a man so well known as Mr. Jolson I believe the expenditure is justified.' "