After working with Cook, Williams writes that he works for Reginald Davis Johnson from 1914 to 1917. (1942 AIA document) Johnson, a Pasadena architect, is noted for designing luxury homes. His revival residential designs with patios, loggias and courtyards aim to create a "true California style" appropriate to the climate and way of life. (California Southland, Sept. 26, 1926) Williams' work is influenced by these ideas.
In an interview Williams remembers his early career with Johnson. "The first thing he did was put me on a $100,000 home in Santa Barbara. I'd never been in a house that cost more than $10,000. I couldn't guess how a person could spend that much money. I soon found out." (Los Angeles Times, October 11, 1970)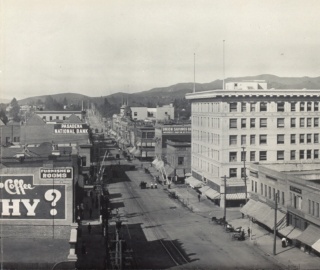 How to Handle "Four Corners"
Los Angeles Times, September 13, 1914
Architects Offer Ideas for Neighborhood Centers
Liberal Prizes Bring Forth Interesting Sketches
Contest Believed Impetus to City Planning
"The committee of award, comprising Architects John C. Austin, Elmer Grey and Albert R. Walker of Los Angeles, gave the first prize of $200 to Paul R. Williams, No. 1530 21st Street Los Angeles."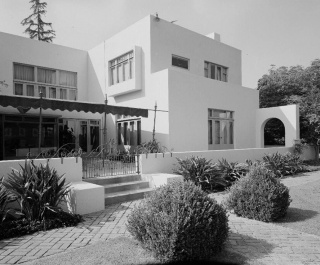 Dodge House
In 1914 California architect Irving John Gill designs a residence for Walter Luther Dodge. The house incorporates many technological innovations including a garbage disposal, automatic car wash, central vacuum, extensive use of sheet metal and skylights. Gill's unornamented design, reminiscent of the adobe used in California missions, is one of the first in the U.S. to use reinforced concrete.
Extensive landscaping, designed by Wilber Cook, is considered an important element of the Dodge House. Paul R. Williams works for Cook.
Though torn down in the 60s, a panel of architectural historians selected by the Los Angeles Times (2008) includes the Dodge House in their list of top ten Southern California houses.