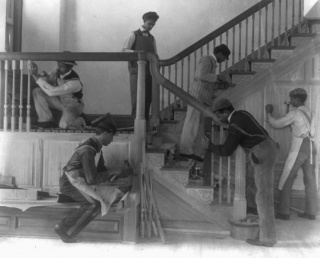 Williams is certified as a building contractor in 1915 and can build small projects. The California State Board of Architectural Examiners is the agency that maintains these records today, but the agency existed under a different name and mission in 1915. (Wesley Howard Henderson's unpublished research)
Men of the Month: A Young Architect
The Crisis, June 1917
"Wide-spread recognition of the ability of Mr. Williams as an architect has come early in his career ... He was awarded first honorable mention in architecture at the Chicago Emancipation Celebration in 1915 ... Mr. Williams is employed by one of the large architectural firms in Los Angeles. The designing of many of the fine home in Southern California can be attributed to his skill."
Panama-California Exposition, San Diego
To celebrate the completion of the Panama Canal, San Diego stages an international exposition from 1915-1916. As the first American port-of-call north of the Canal and with a population of only 90,000, San Diego is the smallest city to host an event of this scale. With the ambitious theme of "human progress" the exposition showcases both the beauty of the city and the resources of the American West.
Architect Bertram Grosvenor Goodhue, in association with Carleton Winslow Sr., is chosen as the chief designer. He is fascinated by the festive Spanish Revival and Mission-style architecture of California and selects it as the unifying design for the exposition buildings. His use of Spanish inspired churrigueresque detail on the buildings creates a sensation and inspires a regional and national popularity for Spanish and Mission Revival buildings—a craze that endures throughout the 1920s.
These images are not from the original exposition but record a remodel (1933-1935) of Winslow's original designs by architect Richard S. Requa.
(Thanks to Will Chandler, project historian and art director, for his insights into the 1990 to 1996 reconstruction of the Exposition's buildings.)