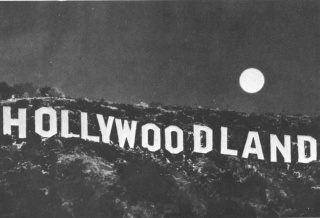 Williams designs for Hollywood elite
Hollywood is "depression proof." During the Great Depression, the public goes to the movies to forget their problems and enjoy the luxury of air conditioning. The famous Hollywood sign is erected in 1924 to promote a neighborhood development Hollywood Land. The sign becomes a symbol for glamorous Hollywood.
The Depression slows work for many architects, but Williams' office remains busy. By 1934 Williams completes over 36 residential estates. Many of his clients are important in the movie industry — directors, movie stars, producers, set designers, even make-up artists — including Otto Preminger, Corrine Griffith, Burt Wheeler, Lon Chaney, Bill (Bojangles) Robinson, Charles Correll and Jacob Paley.
In addition to his work on residential estates, Williams designs many of his most memorable commercial projects in this decade: Angelus Funeral Home, Music Corporation of America (MCA) headquarters, Saks Fifth Avenue and Sunset Plaza Apartments. He also begins a life-long relationship with Howard University.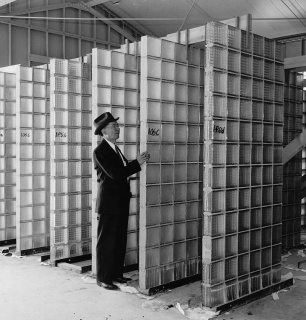 Hollow Glass Building Blocks
In the 1930s hollow glass blocks are frequently used as a building material in the Art Moderne-style of architecture. A style popular with Americans from all socio-economic levels, Art Moderne reflects the country's mid-twentieth century excitement with speed and technology. An inexpensive structural element, glass blocks allow light to be a design component without adding extra ornamentation.
This photograph from the Bureau of Standards in Washington, D.C. shows the glass blocks being tested to certify them safe as a building material.
Paul R. Williams uses glass blocks as a light source and decorative element in his 1939 Loomis Manor Apartments in Reno, NV. Architect Walter Gropius uses a glass block wall to line the entry way of his 1938 house in Lincoln, MA.