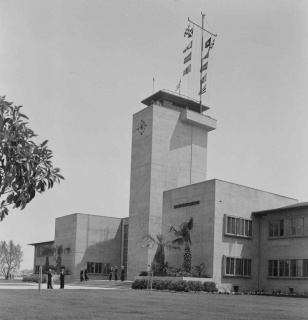 Completes Work on Roosevelt Naval Base Project
Between 1940 and 1943, Williams, a member of the Allied Architects cooperative, works on this important west coast military project. Begun before the start of World War II, this naval facility is a center for Pacific Theater activities.

Photograph courtesy of The Huntington Library, San Marino, California. Maynard L. Parker photographer.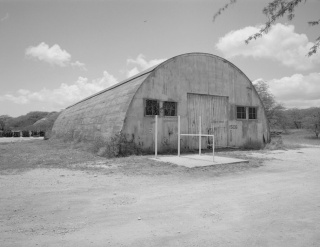 Williams Pursues Other War Contracts
The Negro Yearbook 1941-1946 describes a number of Williams' war-time projects for the United States Navy. Building on his successful experience designing affordable prefabricated metal housing during the 1930s, he forms the Standard Demountable Homes Company of California. This company specializes in the design and construction of temporary, transportable dwellings. His company negotiates with the War Department to develop and build these homes for war workers. While the demountable home is a quick, temporary solution during the war, Quonset-style homes quickly fell out of favor after the war.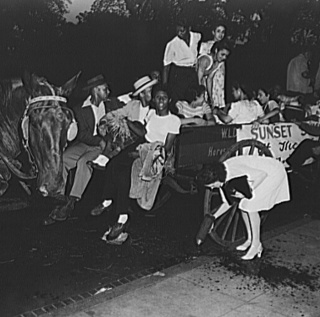 Soundings: USO Homelike
Los Angeles Times, January 6, 1943
"The East Side U.S.O., which is operated jointly by the Negro Y.W.C.A. and Y.M.C.A., is located at 2814 Paloma St. and its doors stand open daily. The clubrooms, decorated by Paul Williams, are not too large and have an exceptionally homelike atmosphere."
In this photograph a group of war workers attend a USO hayride. Because of gas shortages and rationing, horse-drawn hayrides are a popular recreational activity.
The United Service Organizations Inc. (USO) is a private, nonprofit organization that provides support and entertainment for the U.S. military. During World War II this organization is famous for their live performances for the troops by Hollywood stars.