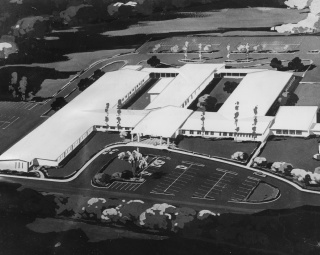 Hospital projects
Before the development of a vaccine, polio epidemics are frequent in the United States. In 1955 the Communicable Diseases (CD) Building for the Los Angeles County General Hospital system opens with facilities for 256 patients and 500 to 600 doctors, nurses and other specialists. This facility specializes in the treatment of polio. Adrian Wilson and Paul R. Williams are the architects for the CD Building and a related Respiratory Center at Rancho Los Amigos. Both buildings were dedicated at the same time.
Williams designs many hospitals through out his career in joint ventures with other architects and solo:
Los Angeles General Hospital, a complex of five buildings, 1947-1959
Westview Hospital, Los Angeles, CA, 1947
Tubercular Hospital, Ecuador, 1948
Rancho Los Amigos Respiratory Center, Downey, CA, 1953 (image)
San Gabriel Hospital, Victorville, CA, 1958
Harbor General Hospital, Sacramento, CA, 1959
St. Jude Children's Hospital, Memphis, TN, 1962
Good Samaritan Hospital (garage) of Santa Clara, 1967

Danny Thomas Hospital Dream Nearing Reality
Los Angeles Times, February 26, 1955
Memphis Group Backs Campaign for St. Jude Underprivileged Children
"The lifelong dream of Comedian Danny Thomas, a hospital for underprivileged children, yesterday began to take the shape of reality ... The comedian revealed that a national fund-raising campaign will get underway in April with a premiere of a film yet unnamed in Memphis ... St. Jude Foundation board members include ... Paul R. Williams, architect ... The comedian said 'divine guidance' was apparent in the selection of preliminary drawings of the hospital. He said that Williams submitted several plans but named one he liked the best ... the shape of the hospital was that of the St. Jude medallion."
Williams donates his services as an architect and provides renderings for fund raising. He later designs the final building completed in 1962.