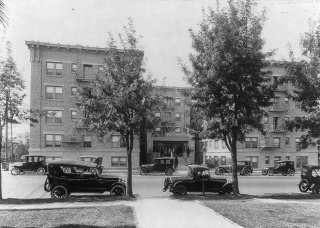 Novel Plans For Building. Modern Acropolis for Los Angeles?
Los Angeles Times, July 13, 1902
"Plans have been prepared for the erection of an apartment building in Los Angeles upon a scale so much larger than any yet attempted to be almost monumental...The proposition is to build an eight-story, steel frame, concrete and glass fire proof structure with a basement and glass canopied roof...Those desiring to secure apartments must first be admitted into membership in a club... to be named 'The Twentieth Century Club.' Requirements for membership will be that the person is of good moral character, subject to no contagious or infectious diseases, not of negro or Chinese blood or descent... in case the person shall have children, he may deposit not less than $10 with the superintendent, which money may be available to make any repairs necessitated by the occupancy of apartment by children. The architects are Associated Architects and Engineers."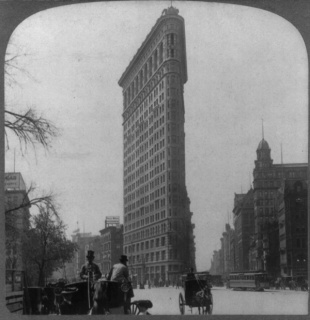 Flatiron or Fuller Building in New York
The Fuller Building at 175 Fifth Avenue in New York is completed in 1902. The Chicago architectural firm of Daniel H. Burnham & Company designs the 22-floor building as a speculative project. Burnham uses a steel frame, covered in a non-load-bearing limestone and terra cotta facade with a mixture of French and Italian Renaissance ornamentation. The building of copper-clad windows and pale-colored bricks is topped by a series of arches and columns with a heavy projected cornice and flat balustraded roof. The unusual design creates the illusion of a freestanding colossal column. The design and extensive use of steel in the construction causes a general "buzz" in New York.
Though officially called the Fuller Building, the building is renamed the Flatiron by the public because of its unusual shape. Burnham's triangular shaped building is his solution to an awkward building site.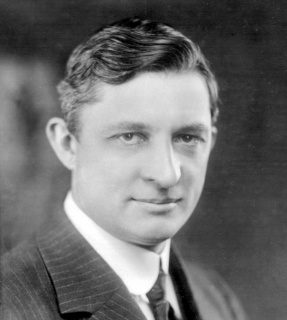 First Modern Air Conditioning System
Willis Carrier, a born tinkerer, describes his air conditioning invention as "the natural growth of busy, intelligent minds aiming for improvement." In his book, The Small Home of Tomorrow, Paul R. Williams lists the Percipitron (a filtering, dehumifier/air conditioner) as a technological advance that will "increase the livability of the home." Crude forms of air conditioning have existed for thousands of years. Homes are designed with porches, more windows and high ceilings to facilitate airflow. The invention of modern heating and cooling technology tranforms the way we live, work and play. In 1913 a private residence in Minneapolis becomes the first air conditioned home in America. By 1953 more than 1 million home units are sold in the U.S.
On July 17, 1902, Carrier submits drawings to the Sackett-Wilhelms Lithographing & Publishing Company in New York for a system to prevent paper from wrinkling from excessive humidity during printing in their plant. Carrier calls his invention an "Apparatus for Treating Air." Engineers consider his machine the first modern air conditioning system.
A recent engineering graduate from Cornell University, Carrier convinces his employer (Buffalo Forge) to establish an experimental facility to solve engineering problems. Experimentation in engineering (research and development) is a new concept but Carrier believes money will be saved by reducing the amount of "cut and try" engineering. His idea of an R&D facility transforms industrial thinking. The air conditioning solution for excessive humidity at the printing company is the first product of this engineering laboratory. With Carrier's invention in 1902, America enters the first air conditioned century.
During the 1920s cooling units become smaller, quieter and safer. Though air conditioning is too expensive to install in homes and most businesses during the Great Depression, owners of movie theaters see the newer more efficient sytems as money makers. New York's Rivoli is the first theater to be "air-conditioned." More Americans go to the movies to watch the stars and experience the comfort of the cool theaters. This period is known as Hollywood's Golden Age and is the start of the public's fascination with all aspects of the movie industry. In the 1930s Paul R. Williams begins his reign as "Architect to the Stars" designing homes for popular actors and movie management.
In the history of 20th century American material culture, air conditioners are the "enablers of modern American life." (Rebecca J. Rosen. The Atlantic. July 2011) This invention changes every aspect of American life: cooled department stores encourage year-round shopping and climate regulated offices improve worker productivity. Economic studies of the time find out-put by typists increases "as much as 24% when offices were cooler." In 1928 the Federal govenment embraces the invention, installing systems in the House of Representatives, the Senate and White House. By the 1950s economical, efficient air conditioners transform the Old South's economy into the New South by taming the section's heat and humidity. (The Wall Street Journal. July 11, 2012)