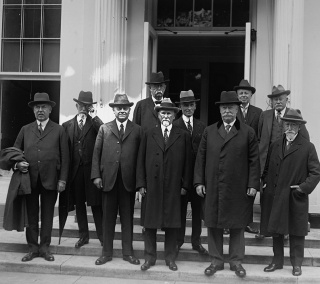 Negroes Sue For Lost Rights
Los Angeles Times, January 7, 1904
"Judge Richmond Waddill of the United States Circuit Court has transferred from this city from Norfolk three suits at common law entered by colored residents of this State who ask damages of $5,000 each from the Governor, members of the recent constitutional convention and election officers for the alleged deprivation of rights under the new constitution."
Richard Waddill is one of the men seen in this group photograph of the United State Circuit Court Judges from the 1900s. The Library of Congress is an excellent source for images of America's history.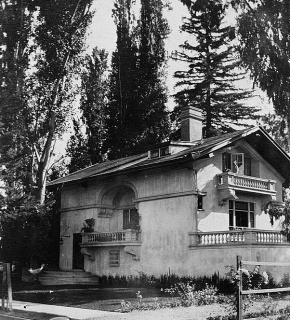 Howard B. Gates House, San Jose
The Gates House in San Jose, California is designed by architect Bernard Maybeck for physicians Howard and Amelia Gates in 1904. The chalet form of the house with historical details is inspired by the large stand of trees on the site. Though Maybeck's 3-story design is larger than other residences in the area, he crafts the exterior of the home to appear smaller and fit with the character of the upper middle-class neighborhood. The architect's open living design for the interior includes an oversized fireplace and dramatic staircase—radical for turn-of-the-century San Jose, but popular in many mid-century California homes.
Bernard Maybeck is an Ecole des Beaux-Arts trained architect who becomes the first professor of architecture at the University of California at Berkeley (1898-1903). He opens an office in San Francisco specializing in homes and large public buildings incorporating innovative building materials such as native woods, over-sized windows and handcrafted details in an eclectic and personal style.