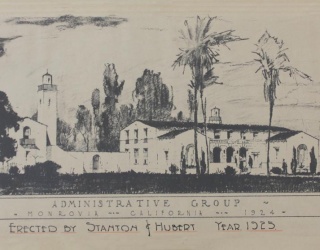 Monrovia, California Administrative Group
Williams' and Milton W. Nigg's proposal for group of adminstrative buildings is selected by the Monrovia Trustees from a number of competing proposals. Their winning rendering illustrates a complex of mission-style buildings with red tile roofs and stucco walls set in a park of mature oak trees covering a half block. (This particular architectural style is a popular choice for public buildings and private residences in Southern California throughout the 1920s.) The Monrovia Adminstrative Group is one of Williams' earliest successes for a large scale public complex.
The initial phase of the Administrative Group (Fire Department and Hall of Justice/Police Department/Jail buildings) is completed in February, 1925. The swimming pool, bathhouse, tennis courts and athletic fields open later in the same year.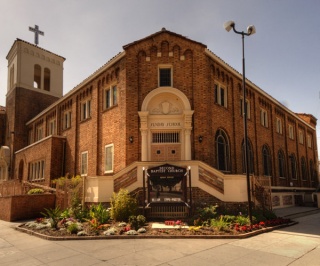 Second Baptist Church, Los Angeles
The Second Baptist Church, the first African American Baptist church in Los Angeles, opens their new facility in LA's Central Avenue area. The building is designed by Williams and Norman F. Marsh, the official architect of the Southern Baptist Convention. The church pastor insists that all workmen constructing the church are from African American-owned businesses.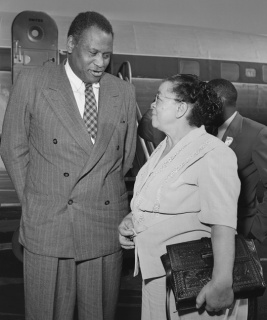 Building Program of the Second Baptist Church
California Eagle, February 29, 1924
A newspaper article about the growth of the church proudly describes Williams as "the only Negro in the United States to become a member of the National Association of Architects."
The California Eagle, founded in 1879, is the first African American newspaper published west of the Mississippi River. The first issues of the paper encouraged African Americans in Texas to move to California.
This is a photograph of Charlotta Bass, editor and owner of the Eagle from 1912 to 1951, standing with classical actor, movie star and singer Paul Robeson in 1949.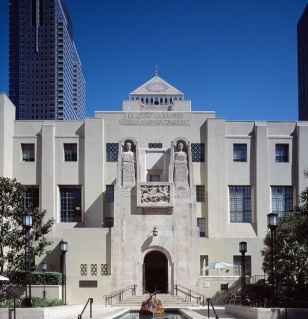 Los Angeles Public Library
The Central Library building of the Los Angeles Public Library System is the last work of New York architect Bertram G. Goodhue. Begun in 1924, Goodhue dies before completion but Carleton M. Winslow, Jr. continues the project for the firm. With a unifying theme "The Light of Learning" the building includes a mix of architectural influences popular in the 1920s: Beaux-Arts, Art Deco and California Mission-styles.
The three-story building with unadorned, reinforced concrete and plaster interior walls is in a park-like setting—an oasis in the midst of a busy city. Goodhue's integration of the Arts as a design element is an early example of incorporating art in a public project. The skyscraper-like tower is topped with a colored tile pyramid heralding both the modern age and California's past. Limestone figures on the exterior represent important authors and intellectual disciplines.
Proposed for demolition in the mid-1970s, the Central Library is saved by the newly formed Los Angeles Conservancy.