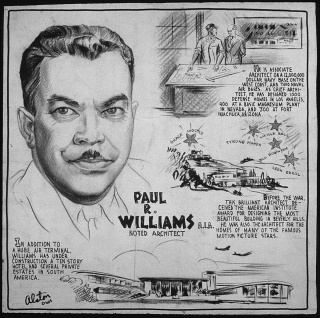 Career Used to Promote War Effort
Charles Alston, an artist in the Harlem Renaissance (1920-1930), creates a series of illustrations for the War Department with famous African Americans. The original drawings promote the war effort by highlighting the contributions of these individuals to Democracy.
In addition to Paul Williams, some of the other heroes include:

Sergeant Joe Lewis, athlete,
Mat Henson, North Pole explorer,
George Washington Carver, scientist and inventor.
Everybody There
Los Angeles Times, February 3, 1944
Hedda Hopper writes in her column Looking at Hollywood: "Paul Williams, architect, introduced Dora Auger and Mary Jane Colter, architect and decorator from Santa Fe, at Paul Granard's cocktail party for Elizabeth Gordon and Frances Heard of House Beautiful. While here, girls looked over houses Granard decorated. That means Betty Grable's, Burt Lahr's ... "
This photograph of Burt Lahr's home is by Maynard L. Parker from the Huntington Library collection. Lahr's residence was designed by Paul Williams and decorated by Paul Granard.