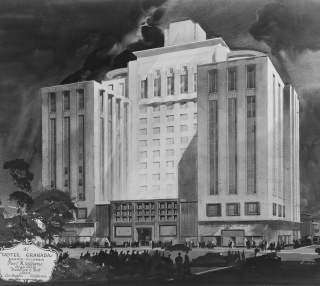 The Home Front: Columbia, a Country on the Uptake
Los Angeles Times, April 14, 1941
"I've been talking with Paul Williams, the Negro architect, and he told me about Colombia, a country which is on the uptake ... Mr. Williams actually has BEEN there ... the new thing about Colombia is that it is building a big city hotel, office buildings, clubs, homes ... all along the most advanced style ... A commission was sent to the States to study the hotel architecture ... When the commission reached Los Angeles, it was so enchanted ... it decided right then and there ... that this was the spirit it wanted. Mr. Williams got the job ... The selection of Mr. Williams to do the job was a nice compliment to Los Angeles."
The image of Hotel Nutibara is a rendering by R. Lockwood for Williams' office to present to the Colombian clients. This photograph is from The Huntington Library Maynard L. Parker archives.
Williams in Home Show
"California Architecture" is the theme of the 1941 Los Angeles Home Show. Air, sunlight and space are important elements used to define this developing style. Photographs, sketches and models by architects Richard Neutra, R. M. Schindler, Cliff May, John Lautner, Lloyd Wright and Paul Williams are among those whose work best illustrate "California Architecture." (Los Angeles Times, Jan 19, 1941)
Lincoln University Honor
"Paul Williams, celebrated Los Angeles, Calif. architect, ... received the honorary degree of Doctor of Science at Lincoln University, Mo., June 10, 1941." (The Crisis, July 1941)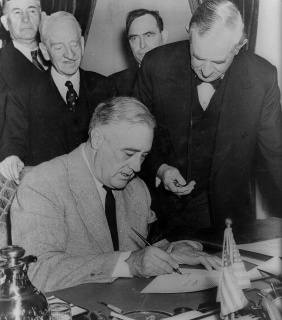 War Must Be Fought On Two World Fronts
New York Times, December 14, 1941
"The most extensive and most devasting war in history began a new and fiercer chapter last week. Many smaller nations followed Japan and the United States into the swift-moving War of the Continents and by the week-end some 34 countries or dominions were at war, with only a handful of neutrals still clinging to a precarious non-belligerency."
Tile Is Sumptuous in Swimming Pools
Architect and Engineer, April, 1941
"Nothing is more beautiful than tiles, either plain or in designs seen through water. Clear green and blue colors make the water particularly attractive. Above is the corner of a pool at the home of Jay Paley at Beverly Hills, California of which Paul Williams is architect."