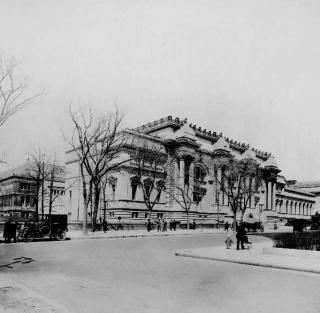 Metropolitan Museum of Art, New York
In 1895 the Metropolitan Museum of Art opens a new building at 5th Avenue in New York's Central Park and replaces Calvert Vaux's and Jacob Wrey Mold's original Victorian style museum.
When Henry G. Marquand became president of the Met in 1890, he instructed the museum's governing board to select architect Richard Morris Hunt to design a new building. Hunt's building is a triumph of Beaux Arts design and places the museum in the forefront of American art museums.
As the first American to attend the Ecole des Beaux Arts in Paris, Richard Morris Hunt's architectural style is eclectic borrowing from many historic European styles. He is credited as one of the founders of a new American style of architecture. Hunt opens one of the first teaching studios in New York to train "embryo architects" and models the studio after ateliers in Paris. Hunt is one of the founders of the American Institute of Architects and becomes president in 1888. Popular with wealthy Americans in the late 1800s including the Vanderbilt family, Hunt designs many of their grand homes.
The central facade of the museum remains intact surviving many renovations. This facade is one of the few remaining examples of Hunt's work in New York.