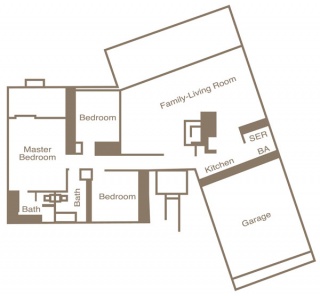 How to Build a Home for $5,000 as told to Ebony
"Start small ... Build a small house now, one that is a complete and attractive unit in itself, but has a floor plan designed to take more rooms as needed or as your budget increases ... But be sure your plan will give you a pleasing house inside and out ...
Williams predicts that the "old-fashioned" living room will disappear in modern American homes. Living rooms will become "informal recreation and leisure rooms that open on a backyard garden." (Ebony, March 1949)
This Williams' floorplan for a 1960s development illustrates the informal recreation/leisure room he describes in the Ebony article.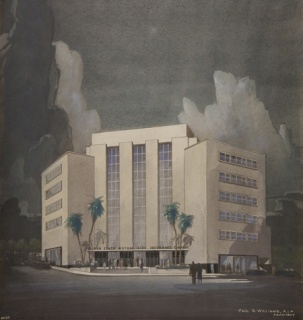 Golden State Mutual Life Insurance Company headquarters opens.
The new Golden State Mutual Life Insurance Company headquarters is officially dedicated in a week long celebration in August 1949. Over 10,000 tour the building, including corporate officers, California Governor Knight, State Insurance Commissioner Downey and architect Williams.
This rendering of Golden State Mutual, drawn by Williams, hangs for many years in the executive offices of the company.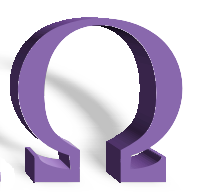 Brother Paul R. Williams
The Oracle, September 1949
America's Top Architect: Author of "I Am a Negro" Sees Better Race Relations, Has Plans for Homes to Cost Less Than $5,000 Each
"The designer is of the opinion there is only one kind of property restriction and that is the one which protects a community against inferior design or construction. And Brother Williams is active in the fight against all the other types of residential restrictions."
The cover of the September issue of The Oracle features Paul R. Williams. This magazine is devoted to the Omega Psi Phi, a prestigious African American fraternity. This is not the first time that Williams is the subject of an article about members of the fraternity.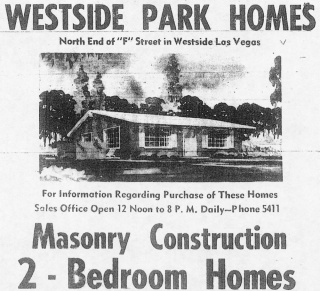 Famed Architect Designs Homes for Westside Park
Las Vegas Review-Journal, December 14, 1949
New Westside Homes Project Gets Under Way
"The plans, as drawn by Williams are the realization of many months of study ... only his personal interest in this project makes it outstanding ... The houses will be of concrete block or masonry construction with Tropicool roof, steel casement windows, steel kitchen cabinets, air conditioning and all electric heat."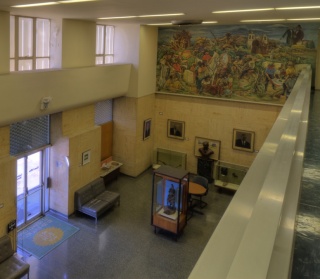 New Insurance Building's Lobby Murals Unveiled
Los Angeles Times, August 20, 1949
"Artist Hale Woodruff's mural depicting The Negro in California History was unveiled yesterday when Golden State Mutual Life Insurance Co. officially opened its new five-story building ... Celebrities on Hand: Norman D. Houston, president of the company; Paul R. Williams, nationally known architect who designed the building;..."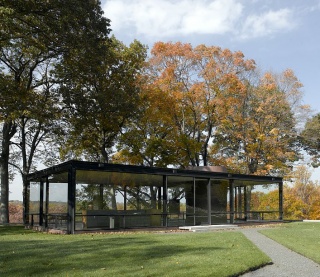 Glass House, New Canaan, Connecticut
Philip Johnson, an important 20th century architect known for his designs and philosophy, influences the course of American architecture. Collaborating with Henry-Russell Hitchcock, Johnson writes the celebrated exhibition catalog: The International Style: Architecture Since 1922 (1932). Hitchcock and Johnson are the first to describe and popularize the style.
A student of Walter Gropius and Marcel Breuer at Harvard's School of Design, Johnson begins designing his Connecticut residence after graduating in 1943. The Glass House is completed in 1949 and is an immediate sensation. The house is a simple rectangular structure built of 18-feet-wide, floor-to-ceiling, plate-glass sheets secured between black steel piers. It is considered a key postwar building. Built as a single room with a brick mass containing the fireplace and bathroom, the interior is open with cabinents and bookshelves serving as room dividers.
The Glass House is added to the National Register of Historic Places as the "epitome of modernism, its simplicity and purity of form unparalleled in domestic architecture." Philip Johnson describes his home and the surrounding complex as "the diary of an eccentric architect," a material record of his evolving architectectural philosophy.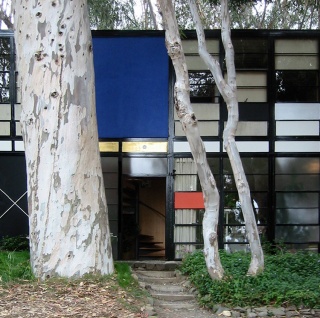 Eames House, Pacific Palisades, California
In 1945 John Entenza, the publisher of Arts and Architecture magazine, commissions eight architects to participate in the innovative Case Study House program. The purpose of the program is to rethink and re-engineer the concept of the home for post WW II America. The first group of architects are selected for their design talent and their ability to take "...a plot of God's green earth and create good living conditions for eight American families." Over 18 years, 34 houses are designed by some of the most influential mid-century architects.
Charles and Ray Eames, a husband and wife design team, create one of the original eight Case Houses. Built along the California coast in Pacific Palisades, the completed house is unveiled in the May 1949 issue of Arts and Architecture. The steel-framed, modular, International-style Eames House becomes one of the most famous Case Houses. Modular in design with an open floor plan, the one and two-story residence/studio is created from two steel-framed, rectangular boxes connected by an outdoor "room." The public areas of the residence are located on the lower floor with the private bedrooms and baths upstairs.
Built of glass, stucco, metal and synthetics, the Eames House uses many prefabricated industrial materials developed during the war and now available to the construction industry. This design is often cited as the most successful of all the 34 Case Study Houses in adapting available industrial materials to residential construction. The Eames' innovative, flexible use of available materials is embraced by the American public as a "kit-of-parts" concept easily adapted to different sites and environments. Best known for industrial designs, the Eames House is the couple's only architectural work.