| | |
| --- | --- |
| Gallery | La Concha Motel, The Neon Museum, Las Vegas, NV |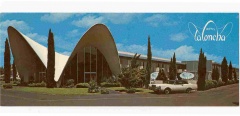 La Concha Motel, Las Vegas, NV, Vintage postcard
Image courtesy of the Doumani Family and The Neon Museum





















In Las Vegas, there is a neon graveyard located on three acres off North Las Vegas Boulevard. This outdoor lot is called the Boneyard, perhaps in reference to the legendary elephant graveyards of Africa. The lights may have dimmed on over 200 vintage neon signs, but they are not dead, only rescued and preserved by The Neon Museum. While French chemist Georges Claude invented the neon lamp, it was the competing hotels and restaurants of mid-century Vegas that turned them into art. Walking around The Neon Museum, the visitor sees the remains of Las Vegas kitsch—a 10-foot-tall martini glass complete with a lighted cherry, the giant glowing lamp from the Aladdin Hotel, thousands of incandescent bulbs, glittery signs and lots of neon glory (image 23). The Boneyard is also the home for one of Paul R. Williams' most unusual buildings, the iconic 1,100-square-foot La Concha Motel lobby, his salute to Southern California Googie architecture.

The genealogy for the architecture of La Concha Motel is traceable to a Southern California restaurant designed by John Lautner, Googies, whose mascot was a cartoon waitress with fried egg eyes. Cheap, modern, flashy, where form does not follow function, Googie-inspired buildings were aesthetically unrestrained. Architectural historian Alan Hess described them as "cartoons in steel and glass, designed to catch the attention at highway speeds." While the style was dismissed by intellectuals of the 1950s and 1960s as "a little too western, and a little too American for serious consideration," it was immensely popular with the rest of the country.

When M. K. Doumani commissioned Williams in 1961 to design his 100-room motel, he envisioned something unique among the huge hotel-casinos such as Desert Inn, Dunes or Tropicana. (aerial image 3) He wanted his motel to be a memorable architectural sign, as memorable as the neon signage on The Las Vegas Strip. He wanted an architectural application that would set his hostelry apart and attract guests. (Paul Richard. Today's Family Digest. Nov. 1969) While La Concha did not have the amenities of the larger hotels, the drive-up motel Williams created was stylish, intimate and memorable.
According to local historian Dorothy Wright, La Concha could only have been created for Las Vegas. Blending "high design and hands-on construction" the motel was built on a shoe string budget with different Doumani family members pitching in. Two sons worked on the actual construction and various members of the family shopped at local hardware stores for off-the-shelf fixtures. The money saved was used to build "a huge, towering sign whose base was the distinctive stylized La Concha logo." (Desert Companion. December 2012)
But what about that "intersecting hyperbolic paraboloid" lobby of glass and thin-shell concrete? Was it a stylized conch shell, a butterfly or Williams' playful take on America's fascination with cars and science fiction? Whatever his intent, the building's aesthetics were not out of character with elements in his previous work. Williams' buildings were often filled with curves and circular details in the ceilings, building overhangs, arched entries, pool or lunch counter.

While Googie-style architecture has often been criticized as the crass work of anonymous draftsmen, the La Concha Motel is an example of the style as designed by a serious and respected American architect. Few examples of this populist style survive, but Williams' La Concha Motel lobby has been saved through the hard work of Nevada preservationists and architectural historians. The Neon Museum hopes to convert the La Concha Motel lobby into their visitor center in 2011.