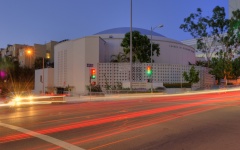 Founder's Church of Religious Science, late 1950s, Los Angeles, California
Photograph: David Horan, 2010, Paul Revere Williams Project










During the 1950s, the NAACP and the AIA bestowed their highest honors on Paul R. Williams. In 1953, he became the first architect to win the Spingarn Medal for outstanding achievement by an African American, and in 1957, he was the first African American to be elected to the AIA's College of Fellows. Both awards cited his decades of public service on city, state and national planning and housing commissions. He received honorary doctorates from Howard University and Tuskegee Institute.
After World War II, a desire to look to the present and future instead of to the past for stylistic inspiration and new cost-effective technologies made "modern" buildings the overwhelming choice. Williams now primarily produced contemporary designs, but his buildings never succumbed to the glass, steel and concrete uniformity that blanketed cities around the world.
Modern houses like Chasen and Ritts/Kohl (1949) residences and the Marina del Rey Middle School (1960) are designed to accentuate the imagery of location, the experience of seeing and the celebration of movement. The Botany Building at UCLA wraps around the botanical garden, while the Engineering and Architecture Building (Downing Hall) at Howard pays homage to classical modernism. The dome and drum of Founder's Church of Religious Science express gathering together in praise, and Hillside Memorial Park conveys remembrance and permanence. In designing his own house, Williams celebrated family by focusing inward to the garden.