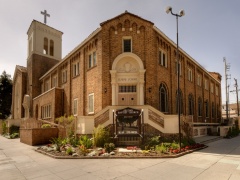 Second Baptist Church, 1924, Los Angeles, California
Photograph: David Horan, 2010, Paul Revere Williams Project










Paul R. Williams had important advantages in his desire to become an architect. He was talented, intelligent, confident and diligent, and he lived in Los Angeles, the "newest city in the world." He had one immense disadvantage: he was black, and of all American professions architecture was most exclusively a white man's reserve.
Believing that he could break through prejudice with individual excellence, Williams planned a strategic career path. During the 1910s, he apprenticed for a distinguished landscape architect and planner and two celebrated residential designers, while he pursued the national curriculum of the Society of Beaux-Arts Architects and studied architectural engineering at the University of Southern California. Upon recommendations from his mentors, Williams was appointed to the first Los Angeles City Planning Commission in 1920 at the age of 26.
In 1921, he joined the important firm of John C. Austin, who encouraged Williams' intentions to join the American Institute of Architects and establish his own firm. Paul R. Williams & Associates opened in 1922, and the next year, he became the first documented African American member of the AIA.
In his new office, Williams worked with equal facility in the prevailing French Regency, English Tudor and Federal Revival styles and in the popular Spanish Colonial Revival style. In the 1920s, he also attracted important institutional commissions from the black community, notably the 28th Street YMCA and the Second Baptist Church with Norman F. Marsh.