| | |
| --- | --- |
| About | Project Committee and History |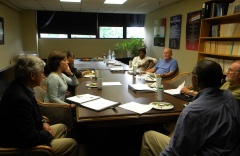 The Paul R. Williams Project is a collaboration of individuals and organizations in which AIA Memphis and the University of Memphis are the core institutions. The project began in early 2006 as an initiative of the Memphis chapter of the American Institute of Architects (AIA) in honor of the 150th anniversary of the AIA.

Why would the AIA Memphis focus on Paul R. Williams, an architect who was born in Los Angeles and whose career, though national and international, was largely realized in Southern California?

Memphis has an historical interest in Paul R. Williams. His parents, Chester Stanley Williams, Sr. and Lila A. Wright Williams were from Memphis, where Chester Williams worked at the famous Peabody Hotel, and where Paul's brother, Chester, Jr., was born before the family moved to Los Angeles during the early 1890s. Decades later in 1960, Paul R. Williams contributed his design for the original building of Memphis' renowned St. Jude Children's Research Hospital, which was founded by his friend, the Hollywood actor, Danny Thomas.

The Paul R. Williams Project committee's motivation was and is to help expand public knowledge about this American architect, whose extraordinary accomplishments were achieved against a background of pervasive racism in a particularly exclusionary profession.
Organizing Committee Members
Lee Askew, III, FAIA, Askew Nixon Ferguson Architects, Memphis
Terry DeWitt, AIA retired, former principal, Hnedak Bobo Group, Memphis
Bradford Grant, AIA, NOMA, Associate Dean and Director, School of Architecture and Design, Howard University
Wesley Howard Henderson, PhD, AIA, Principal, Wesley H. Henderson, AIA, Architectural Services
Heather Koury, Executive Director, AIA Memphis
Leslie Luebbers, PhD, Director, Art Museum of the University of Memphis
Daphene R. McFerren, JD, Director, Benjamin Hooks Institute for Social Change, University of Memphis
Jimmie Tucker, AIA, NOMA, Self Tucker Architects, Memphis, Past President AIA Memphis
James F. Williamson, FAIA, Associate Professor, Department of Architecture, University of Memphis
Project Contributors
Deborah Brackstone, with over 40-years experience in academic and special libraries, is the primary research archivist for digital imagery and the project bibliographer.
Katherine Broome, University of Memphis graduate with Museum Studies Certificate, created the entries for the annotated bibliography.
David Horan, University of Memphis Department of Art faculty, project photographer.
Christopher Fitzgerald, University of Memphis Department of Art graduate, project photographer.
Kay Cunningham, Director Christian Brothers University Library, bibliographic consultant.