| | |
| --- | --- |
| Gallery | Tevis Morrow Residence, Pacific Palisades, CA |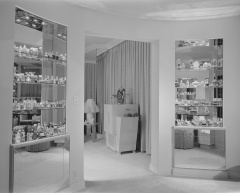 Tevis Morrow Residence, Pacific Palisades
Photographer: Maynard L. Parker, The Huntington Library, San Marino, California


Texas oilman Tevis Morrow was a self-made millionaire. By Dallas' standards his fortune was modest, but by the measure of Los Angeles movers and shakers he had more than enough to be considered an equal.
After serving in France during World War I, Morrow returned to Texas to learn the petroleum business. Working first as an oil appraiser and then a broker, Morrow opened his own production company in the town of Slaughter Pool. By 1946 he had drilled over 106 wells and decided that he and wife Coleen had enough of the wildcatter's life. Morrow was satisfied that he was rich enough to retire. Together the Morrows moved to Los Angeles for a different life.
Los Angeles in the 1940s was an open city. With enough money a newcomer could become part of most elite social groups and pick from a variety of glamorous places to live. Tevis gravitated toward California oilmen like Howard Keck (Superior Oil) and Coleen joined the Beverly Hills Polo Club. To build their new home in 1947, the couple bought land in Pacific Palisades. They selected architect Paul R. Williams to design their estate.
Pacific Palisades was part of a large 1838 Mexican land grant that evolved into a popular summer retreat for Los Angeles residents. Residential and commercial development was slow, but when the Morrows selected their San Remo Drive property the "community had several retail stores and a restaurant or two." (Pacific Palisades Chamber of Commerce Celebrates 50 years, 1999) Pacific Palisades was becoming known as the California Riviera with expensive, well-landscaped homes screened from public eyes, often with spectacular views. The Morrows moved into their Williams' designed home on November 17, 1948. (On-line genealogy entry, Tevis Morrow, Jr.)
In the late 1940s and 1950s, Williams' California clients, including the Morrows, wanted the élan of owning a home of "modern" design without the accompanying modern aesthetic philosophy. Often called "late Moderne" and used primarily in commercial projects, Williams' effective solution for clients who wanted this look was something he called—conservative modern. (Paul R. Williams. New Homes For Today, 1946) To achieve his new look, Williams opened the floorplan and used windows and mirrors to increase the natural and reflected light. Modern building materials were substituted for traditional ones—boards replaced stucco on the exterior and stone and smooth finishes replaced ornately carved wood interiors.
In the Morrow home Williams replaced detailed moldings, carvings and coffered ceilings (image 2) with carefully selected custom-made products in steel, glass and Lucite. Today his choices are considered either "icons or clichés of midcentury design" (Alan Hess. Forgotten Modern: California Homes 1940-1970, 2007). In the 1940s they were seen as the height of design chic. Maynard L. Parker's photograph of the Morrow's dining room for Architectural Digest (image 3) underscores Williams' melding of modern with time-honored materials. Mixing traditional crystals with patinated metal wall brackets and reflective glass sheets, the room is dramatically filled with indirect lighting. His subtle "conservative modern" touches are evident beginnning at the entrance "where painted brick, a bezelled frame on the front door, horizontal lines and delicate Lucite balustrades were used." (USPS Report. Bullock's Pasadena. 6-17-1996)
Architectural historian Alan Hess associates Williams' conservative modern-style with a number of his custom designed homes including this house, Ritts/Kohl residence and Williams' home in Lafayette Square. Not only was Williams comfortable with his version of modern California residential style, but it resonated with his clients. In a 1962 speech delivered in Mexico City, the architect said, "We have a lot to be thankful for in the development of modern architecture. Due to strong simple lines with powerful broad masonry or glass surfaces, our modern buildings have the appearance of stamina, character and individualism." (Paul Williams. "The Influence of Planning on Man's Destiny")
Always the wildcatter, Tevis found retirement confining and restarted his petroleum career in 1949. He successfully struck oil in Placerita, California greatly increasing his fortune. In the 1950s Morrow made his biggest bet. He invested most of his wealth in Cuba forming the Cuban American Oil Company. World events turned against Morrow. After the revolution in Cuba, Fidel Castro overthrew the established government and nationalized all private businesses. Morrow lost everything.
Though his health would fail, Coleen and Tevis lived in their Pacific Palisades home until his death in 1971.