| | |
| --- | --- |
| Gallery | Frederick Leistikow Residence, Windsor Square, CA |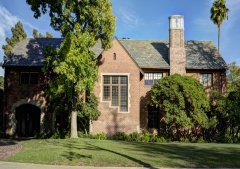 Frederick Leistikow Residence, Windsor Square, CA
Photographer David Horan, 2011, Paul Revere Williams Project








"The State Board of Architecture has granted certificates to practice to the following persons…Paul R. Williams, care of John C. Austin…" (Southwest Builder and Contractor. June 10, 1921)
After receiving his state certificate, Paul Williams continued to work in John C. Austin's office. Within two years he was elected as a full member of the American Institute of Architecture (AIA) and began to make plans to open his practice. Despite warnings that the local African American community was not large or wealthy enough to support a full-time licensed architect he successfully networked within his own community and secured contracts to design churches, private auditoriums, mortuaries and large homes for emerging black entrepreneurs and professionals. Williams' white client base also began to develop through referrals. One of the early referrals was Frederick W. Leistikow and his wife Esther who wanted to move from Oak Knoll near Pasadena to the more socially established Windsor Square. (ZIMAS)
In the early 20th century the Leistikow family were well-known financiers in Canada and the American Midwest. Immigrating in 1852 from Germany to Canada, William C. Leistikow, Frederick's father, aggressively invested in timber, grain elevators, flour milling and banking. In 1910 he was listed as one of only 19 millionaires in Winnipeg. (Winnipeg Telegram. January 29, 1910) William married into an important Minnesota milling family and his influence spread to America. Frederick lived in both countries, but moved to Los Angeles after marrying Esther Isgrigg in a ceremony at St. Peter's Episcopal Church in New York. (The Timberman. February 1913) The Isgriggs were a well-established family in Los Angeles.
In 1913 shortly before his death, William hired Foss Designing and Building Company to build a $40,000 home on Hillcrest in the Oak Knoll area of Pasadena to be near his son. Designed in the popular mission revival-style, the house had the latest modern conveniences including an internal vacuum system, automatic water heater and composite material roof. (Southwest Builder and Contractor. May 24, 1913) After a long Panama Canal honeymoon, Frederick and Esther moved into his father's newly completed house.
With his inherited wealth Frederick became a financial force in Los Angeles and western Canada. His interests included timberland, commercial real estate, banking and loan companies. (Who's Who In California, 1928-1929) The couple's social activities were chronicled in the pages of the Los Angeles Times and details of Esther's designer clothing were often included in the accounts of their parties, dinners and charity benefits.
In 1920 Frederick and Esther sold the Hillcrest home for $140,000 (Los Angeles Times. April 4, 1920) and contracted with well-known architect Carleton M. Winslow to design a larger 15-room home in Oak Knoll. (Southwest Builder and Contractor. June 11, 1920) As the Leistikow's Los Angeles business and social activities expanded the couple decided to move to the exclusive Windsor Square residential subdivision.
In 1924 Frederick Leistikow hired Paul Williams to design a new larger home in Windsor Square that reflected his family's social and financial standing in Los Angeles as well as providing room for his growing family of 5 girls. Often referred to as a monument to the Los Angeles social establishment, this well-established area attracted younger members of important families and was a natural choice for Leistikow.
Though Spanish revival architecture was still a common choice for most middle-class home buyers in Southern California, the aesthetic of wealthier clients was evolving. In spite of the cachet of an impassioned endorsement by movie star Mary Pickford, the Spanish-colonial inspired home was losing its appeal for establishment clients. Influenced by extensive personal travel, articles in popular design magazines and scores of local photographic exhibits featuring classic English and continental buildings, these sophisticated buyers demanded that architects expand their offerings with fresher designs. They desired homes that emulated other historic styles but were powered by the latest modern engineering technology. (West Coast Builder. November 1930) Williams' design for the Leistikow residence is an excellent example of this change in taste.
In designing the Leistikow home, client and architect worked closely together to create an individual, lighter and more modern interpretation of the popular Tudor-style. Instead of the typical exterior of stucco, false half-timbers and cross gables, Williams used the latest hollow brick technology. His unique interpretation of the Tudor-style featured a stepped bank of tall, narrow leaded windows fashioned into panels on the front of the house. (image 1) The windows flooded a traditional entry and staircase with sunlight, lightening the affect and atmosphere of the house.(image 5)
Though a young architect, Williams' aesthetic restraint is already evident in the Leistikow design. Contemporary interior photographs by Mott Studios show rooms filled with over-sized furniture, arched dooorways with plaster details, floor-to-ceiling windows, tastefully carved fireplace mantles and elaborate coffered ceilings. (images 6-8) Though the American interpretation of Tudor-style is often over-done and gloomy with heavy interior detail Williams' philosophy of "Good design is a pleasing assemblage of parts; and not the assemblage of pleasing parts" is apparent. (Los Angeles Times. October 11, 1970) Though luxurious and grand in its materials and execution, the Leistikow home is light-filled, intimate and inviting.
Frederick and Esther continued to live in their home through the 1950s when the couple moved to Delray, Florida. Later Ernest Holmes, the founder of the Church of Religious Science bought the house. In an article published in the church's magazine, Williams reminisced about quiet evenings and dinners spent with Dr. Holmes in this home. He described Dr. Holmes as "a great spiritual leader and my valued friend." (Science of Mind. May 1962)