| | |
| --- | --- |
| Gallery | Langston Terrace, Washington, D.C. |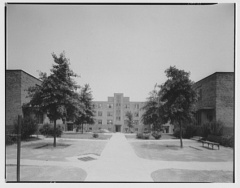 Langston Terrace, Washington, D.C.
Library of Congress Prints and Photographs Division, Theodor Horydczak Collection, ca. 1920 - ca. 1950.








"I fell in love with Langston Terrace the very first time I saw it. Our family had been living in two rooms of a three-story house when Mama and Daddy saw the newspaper article telling of the plans to build it. It was going to be a low-rent housing project in northeast Washington, and it would be named in honor of John Mercer Langston…. The red mud surrounding the concrete walks had not been covered with black soil and grass seed, and the holes … for young trees were filled with rainwater. But it still looked beautiful to me."
Eloise Greenfield, African American children's book author from her Childtimes: A Three-Generation Memoir. 1993

Melvin L. Mitchell in his book The Crisis of the African-American Architect described Californian Paul R. Williams as a designer passionately "devoted to the idea of the modern house" while Howard educated, internationally-influenced Hilyard Robinson was just as passionate about "the idea of modern housing as social reform." Langston Terrace, the first federally funded public housing project in the District of Columbia, was the result of the blending of their different philosophies. Built from 1935 to 1938 by the Public Works Administration (PWA), Langston Terrace was seen as a "successful demonstration of the possibilities of … low-rent housing." Created before the philosophy of less is better became standard in public housing, the complex and its streamlined, International style was both innovative and aesthetically sensitive and would become the public housing prototype for mid-20th century America. Today this large-scale approach to subsidized government housing is often seen by sociologists and thoughtful public officials as another form of social and economic segregation.
The architectural design for the housing project reflected Robinson's belief in the European model of large-scale housing and urban planning and Williams' desire to encourage a sense of community and pride for the residents. The two architects believed Langston Terrace would "... provide not only safe and sanitary housing for working-class and poor people, but also housing that would uplift the spirits of the residents." (Max Bond. Harvard Design Magazine. Summer 1997) The landscaped campus with extended indoor/outdoor living spaces, gardens, paths, shared common areas (images 3-5) and a playground with over-sized concrete animals for children were all part of Williams' vision of community life. Strict budget restrictions encouraged Robinson and Williams to be creative and use readily available materials such as pre-cast concrete components. Their innovative no-frills housing units were easily mass-produced and could be installed in future government projects. Williams applied many of the Langston Terrace design solutions to large public projects he worked on for the next twenty years.

While the cohesive International style distinguished the housing complex from the surrounding residential area, another unique feature of Langston Terrace was the public art component. Awarded a commission by the Treasury Art Program, sculptor Dan Olney created an epic terra-cotta frieze depicting "The Progress of the Negro Race" (images 6-7). The frieze depicted families involved in agriculture, industry, education, and the "great migration" of African Americans from rural to urban life. An heroic mother figure with small children (image 8) reinforced the PWA ideal of the importance of the family unit.

While politicians including President and Mrs. Roosevelt considered the project a social engineering success, Eloise Greenfield's family hoped they would be among the 274 families selected to live there. Academics applauded the Robinson and Williams' design as a "planned utopia." Eloise remembered Langston Terrace as a "lovely birthday present" with a library, lots of friends playing in the common area and a community that "wrapped itself around us and put itself between us and the hard knocks." Completed for a cost of $1,842,000 the project was touted in contemporary African American publications as a place "where a family of moderate means can live in modern comfort." (The Afro-American. May 29, 1937)

Langston Terrace is important in architectural history as one of the first federally financed public housing projects in the United States. It was also important because it honored one of the earliest and best-known African American public figures—John Mercer Langston (image 10). While new culture "heroes" have replaced Langston, he was well known and admired when the project was planned. As the first African American elected to Congress during Reconstruction, he represented Virginia and was considered among the most distinguished and respected "colored men" of his time. Unfortunately like the other "great" men shown in image 9, he is largely forgotten today.

Like its namesake, the importance of Langston Terrace has been lost. Though added to the National Register of Historic Places in 1987, it has recently been included on the D.C. Preservation League's infamous "Most Endangered Places."
Captions from Image 9:
Rt. Rev. Richard Allen, 1st Bishop of the African M.E. Church
E. D. Bassett, Ex-Minister to Hayti
Wm. Wells Brown, M.D., Author of the "Rising Son"
Blanche K. Bruce, Ex-Senator, U.S.
Frederick Douglass, The Colored Champion of Freedom
Robert Brown Elliott, Ex-Member of Congress
Henry Highland Garnett, Late Minister of Liberia
Prof. R. T. Greener, Dean Howard University
John Mercer Langston, Minister to Hayti
P. B. S. Pinchback, Ex-Governor of Louisiana
J. H. Rainey, Ex-Member of Congress