| | |
| --- | --- |
| Gallery | John Landis Residence, Beverly Hills, CA |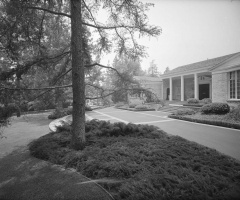 Residence, John Landis, exterior, 1961
Photographer: Maynard L. Parker, The Huntington Library, San Marino, California



The November 1962 issue of the popular interior decorating magazine House Beautiful asked readers: "Are You the West Coast Type?" While the periodical's largely female, middle class readership might not be able to pick-up and move to California, if her answer was yes, she could still look at the accompanying photo spread and imagine. As described by House Beautiful the typical upscale west coast home hid behind fences and walls. Screened from the view of the passerby, the home "literally turns its back to the street." Living in a climate conducive to outdoor living, the west coaster made little distinction between the outside and inside space of her home, decorating both as one. "As one studies the planning of these outdoor areas in relation to the in-doors, one realizes that west-coast architects envision the house and its surroundings as a whole. Their planning starts at the property line…"

John Landis, owner of the home in these photographs, was President of Mission Pak, said to be the world's largest shipper of fancy fresh, dried, and candied fruits, nuts, cheeses, carrot cake and handcrafted candy. The Chicago native had been president of the Coffee Corporation of America until he bought Mission Pak (1945) from California entrepreneur George C. Page. (Los Angeles Times. October 27, 1967) Landis and his partners expanded the company and its product line. With over 100 stores from San Diego to San Francisco and Sacramento employing more than 1,000 employees, the company was important in forming the public's belief in the benefit of eating California produce. The large, colorful cellophane wrapped Mission Pak fruit baskets were often in the background of magazine and newspaper photos of movie stars, politicians, and even mobsters. They became synonymous with warm welcomes and thank yous, and as a way for middle America to have a bit of California cache in their homes.

Viewing this home's elegant brick walkways, front entrance, extensive landscaping, pool, and pool house it's not hard to imagine the Landis family entertaining and relaxing in their traditional home with its extended outdoor California living room. These 1961 Maynard L. Parker images taken for House Beautiful of the Paul Revere Williams' designed colonial revival-style home are an excellent illustration of the west coast home owner's penchant for extending usable living space.