| | |
| --- | --- |
| Gallery | William Howden, Speculative House, Hancock Park, CA |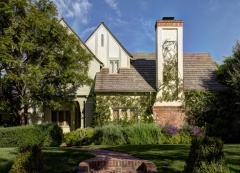 Speculative house, William Howden, Hancock Park, CA
Photographer, David Horan, 2011, Paul Revere Williams Project
"Great fortunes have been made, are being made and will be made in California real estate, not by speculators on precarious boom bubbles, but by men…with foresight and accurate knowledge of reality values and conditions." (Los Angeles Times. January 23, 1927)
"The difficulty largely lies in the fact that the building public ... is uniformed as to how beauty in architecture is achieved ... it was found that in Southern California less than 3 people out of 100 employed an architect to design their buildings and therein lies the answer...there is a growing number of speculative builders who realize that good architecture pays." (California Southland. August, 1928)
During the early decades of the 20th century more than 1 million people moved to Southern California attracted by temperate climate and economic opportunity. Every new resident was considered a potential home buyer in the real estate industry. In Los Angeles County alone 1400+ new subdivisions were created to meet the growing demand. More building permits were issued for Los Angeles before 1930 than any other American city except for New York and Chicago. (Historical Society of Southern California Quarterly. 1942) Though a young businessman, William Howden was regarded by his peers as one of the area's top builders and was a principle in the residential and commercial construction company Howden and Howden.
Known for fine craftsmanship, Howden and Howden was the builder of choice for architects working with affluent clients. Howden and Howden homes were considered a status symbol and soon filled the subdivisions of Flintridge, Windsor Square and Hancock Park. Paul Revere Williams was one of the architects who regularly collaborated with them.
As residential housing industry boomed during the 1920s, the architectural aesthetics of the city's wealthy evolved from the simpler Spanish/Mediterranean to a blend of Old World styles. The affluent homeowner demanded "delightful" homes situated on "more beautiful scenic settings." (Los Angeles Times. July 19, 1925) Aware of this trend Howden purchased lots in Hancock Park for speculative houses. Paul Williams had established himself as a master of combining the physical setting with historical architectural elements. Howden hired Williams to design a Tudor style house for one of his investment lots on South Las Palmas Avenue in Hancock Park. (County of Los Angeles. ZIMAS database)
Before WWII the Architect's Building Material group led by the Schmidt sisters in downtown Los Angles hosted many illustrated exhibits focusing on the best examples of historic English and European buildings. These exhibits informed potential homeowners and local designers of the range of possible historic styles and elements creating the look of instant heritage—something that appealed to the new rich of Los Angeles. One of these popular and influential photographic exhibits featured hundreds of images of original English Tudor homes along with detailed illustrations of building methods used. (West Coast Builder, November 1930)
During his career Williams designed scores of Tudor-inspired homes at different price points. With a construction budget of $12,500 Howden's target buyer was above the average 1920s California consumer who lived in a 4.3 room home costing less than $5,000. (US Census of Housing. 1950) The 2-story, 9-room Tudor Revival house Williams designed for South Las Palmas was sumptuous combining traditional English elements with the latest modern engineering technology. In 1928 Howden applied for a building permit and his firm began preliminary site work to construct the house using Williams' plans.
The house Paul Williams designed for Howden incorporated many of the "classic" Tudor elements illustrated in the exhibit photographs: shake roof, leaded glass windows, over-sized chimney and stucco with decorative half-timbers. To provide a homey interior, Williams used oak and pine for flooring, ceiling details and a large mantel. While the majority of Los Angeles homes had one bathroom, this house had three fully-tiled baths with tile lavatories. To attract a modern buyer, Howden insisted on the latest technology and conveniences: a laundry "drain board," automatic storage water heater, electrically controlled unit gas furnace heating and an attached garage for the family automobile. (Southwest Builder and Contractor. June 22, 1928) Within a year Howden's spec house was completed and a series of classified ads were placed in the Los Angeles Times. (June through October 1929) Shortly before the financial crash of October 1929, the house sold.
In 1932 while out of town on a business trip William Howden died unexpectedly at age 38. Described in his obituary as a "well known contractor and builder" his homes are still highly prized as status symbols by modern Los Angeles buyers. (Los Angeles Times. July 31, 1932)