| | |
| --- | --- |
| Gallery | Howard University, Washington, D.C. |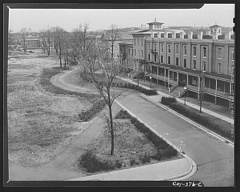 Howard University campus 1942, Washington, D.C.
Photographer: John Collier. Library of Congress Prints & Photographs Division, Farm Security Administration Collection.







When President Andrew Johnson signed the official Charter establishing Howard University in 1867 and proclaimed the school "a University for the education of youth in the liberals arts and sciences" open to all races, sexes and social classes, he and Congress set the stage for a complicated relationship between Howard and the federal government. Only later in its history and after the University boasted 10 fully accredited schools and colleges and a campus of 20 new modern buildings would the institution finally assert its independence.

Paul R. Williams' relationship with Howard began in 1931 when he was invited to participate in a campus exhibition curated by architecture faculty member Howard Mackey. The exhibition highlighted the design work of the few licensed, practicing African American architects working at that time. The 30-year connection between Howard University and Williams was beneficial to both. He resigned as a Trustee for the University in 1966.

Mackey's exhibition in the University's art gallery proved to be an important event in Williams' professional life and for the architectural aesthetics of the Howard campus. It was at this exhibition that Hilyard Robinson, an east coast Howard-educated architect, committed to the International Moderne-style of design, met west coast architect Williams, a designer comfortable with many styles. Melvin L. Mitchell in his book The Crisis of the African-American Architect described Williams as "devoted to the idea of the modern house" while Robinson was "devoted to the idea of modern housing as social reform." Their combined viewpoints and philosophies would influence the form, direction, and future of American public housing. Robinson respected Williams' success and stature in architecture and suggested that they form a relationship with Irving Porter, a well-connected white architect in the Washington, D.C. area. Mitchell tagged the three a "salt and pepper" architectural alliance formed to overcome the political and social obstacles of their time. Together they proposed a number of large and small projects to the federal government. Their first success was the 1934 innovative design for Langston Terrace in Washington, D.C. Completed in 1937 this public housing project gave Williams and Robinson the local and national stature needed to apply for commissions at Howard.

In 1926, Howard's first African American president, Mordecai Johnson (image 2), hired Albert Irvin Cassell as campus architect. Until Cassell's appointment, all buildings were designed and built by white architects selected by the University's major financial backer, the U.S. Department of the Interior. Cassell's assignment was to create a master plan for the present and future campus and loosen the hold of Congress on Howard. Cassell was successful and African American designers and builders soon began to work on projects across campus. After 1938 many of the commissions went to the joint-venture practice of Hilyard Robinson and Paul R. Williams.

Robinson and Williams were largely responsible for changing the look of the campus. The traditional Victorian-revivalist styles (image 3) were replaced by the modern streamlined look both men favored and believed to represent the future of Howard. Men's dormitories (1939 and 1948) and state-of-the-art dental school (1955) were some of their projects. Image 4 shows the newly completed 100,000 square-foot Engineering and Architecture Building in 1952 (The E&A). The ultra-modern, U-shaped building contained classrooms and labs for 315 students enrolled in the newly accredited school. According to an article in the August 28, 1952 issue of Jet, the building cost $2 million to construct. The E&A leveled the educational playing field for Howard students and allowed them to experience an engineering and architecture environment equal to, or better than, most other facilities. While the number of African American architects remained small in the 20th century, Howard's program played a big role in their education, especially after accreditation by the American Collegiate Schools of Architecture. Howard graduates entered the field with a well-defined sense of "elite" professionalism shaped in part by their formative experiences in the Robinson-Williams' designed E&A.
Howard University building projects designed jointly by Paul R. Williams and Hilyard Robinson:
George William Cook Hall (men's dormitory) First appeared on Master Plan in 1932 and constructed in 1937. Formally dedicated to alumnus George W. Cook, educator and dean, 1940.
Lewis King Downing Hall (engineering and architecture building) First appeared on Master Plan in 1951 and constructed in 1952. Formally dedicated to Lewis K. Downing, Dean of Engineering, 1974. (Images 4, 5, 6, 7)
Russell Alexander Dixon School of Dentistry Building First appeared on Master Plan in 1932 and constructed in 1954 with addition in 1981. Formally dedicated to Russell A. Dixon, dentist and former Dean of the school, 1981. (Image 7)
Chauncy Ira Cooper Building School of Pharmacy First appeared on Master Plan in 1951 and constructed in 1955. Formally dedicated to Chauncy I. Cooper, pharmacist, Dean of Pharmacy, in 1986.
Ernest Everett Just Hall Biology and Greenhouse First appeared on Master Plan in 1951 and constructed in 1956. Formally dedicated to Dr. Ernest E. Just, biologist and Chair of the Department of Physiology, 1956.
Charles Richard Drew Hall (men's dormitory) First appeared on Master Plan in 1951 and constructed in 1956. Dedicated to the memory of Dr. Charles R. Drew, biomedical researcher and surgical instructor, in 1956. Drew died at the age of 45 in 1950.
Lulu Vere Childers Hall (fine arts) First appeared on Master Plan in 1951 and constructed in 1960. Dedicated to Lulu V. Childers, Director of the Conservatory of Music, 1960.
Cramton Auditorium First appeared on Master Plan in 1951 and constructed in 1961. Dedicated to Congressman Louis C. Cramton, university supporter, 1961.
Ira Aldridge Theater First appeared on Master Plan in 1951 and constructed in 1961. Dedicated to Ira Aldridge, 19th century African American Shakespearean actor, 1961.
Sources: Harry G. Robinson, III and Hazel Ruth Edwards, The Long Walk: The Placemaking Legacy of Howard University, 1996 and The Guide to Black Washington: Places and Events of Historical and Cultural Significance in the Nation's Capital, 2001.