| | |
| --- | --- |
| Gallery | The Hollywood, Los Angeles, CA |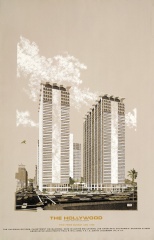 View of Towers from Sunset and Vine, 1961
Copyright Carlos Diniz. Image courtesy of Edward Cella Art+Architecture. Paul R. Williams and David Jacobson, Architects.






In his Los Angeles Times review of the 2009 exhibition of Carlos Diniz's (1928-2001) architectural renderings, David Pagel compared the artist to architectural photographer Julius Shulman. "Think of Diniz as the Julius Shulman of buildings before they existed: a connoisseur of possibility and an aficionado of atmosphere who turned ideas into dreams." The famous photographer captured images of real buildings, often fully landscaped and stylishly furnished. Artist-turned-illustrator Diniz's task was to communicate the architect's design concept to potential investors, lenders, review boards and city planners to convince them of its feasibility.

Diniz's dramatic pen and ink renderings of Paul R. Williams' and David Jacobson's mixed-use 31 story multiple towers, The Hollywood, show buildings "that seems to float" in the sun and gleam in moon light (image 2). Architectural historian, Nicholas Olsberg, curator of the exhibition, described Williams' concept as a planned, contained space for total living -- interior courtyards, outdoor mezzanines, sunken plazas, a heliport and air terminal, theaters, luxuary hotel, office space, apartments, shopping, restaurants (images 5-7) – "a city center within a city." If realized The Hollywood would have been the largest single complex on the West Coast. Williams was not able to convince investors of his project's do-ability. Diniz's talent, described as the ability to draw the future, was not enough. The Hollywood was never built during Williams' life but the architect's vision of total metropolitan living, brought to life by Diniz, would be the precursor of many projects currently under construction in urban Hollywood.