| | |
| --- | --- |
| Gallery | First Church of Christ, Scientist/Lear Theater, Reno, NV |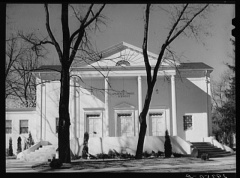 First Church of Christ, Scientist/Lear Theater, Reno, NV
Photographer: Arthur Rothstein, Farm Security Administration, Library of Congress Prints and Photographs Division, Office of War Information Photograph Collection, 1940
















Before the advent of no-fault divorce, Reno, Nevada, was fixed in the public mind as a place where Hollywood personalities went to remedy marital mistakes. Far from the flash of Las Vegas, the conservative Reno is more cowboy than neon. Though a relatively young American city and not particularly well-known for its architecture, Reno is the home of several Paul R. Williams projects, including private homes, the Loomis Manor apartment building, the El Reno Apartments and the 1939 First Church of Christ, Scientist.

The force responsible for inviting Williams to design the First Church of Christ, Scientist was Anna Frandsen Loomis, a wealthy, strong-willed member of the city's growing Christian Science community. Undeterred by Williams' race, Anna underwrote most of the cost (approximately $120,000) for the building, including the river front location, construction and architect's fees. (The U.S. Park Service notes that businessman E.L. Cord who had a home and interests in the area also made a donation in honor of his wife, Virginia, who was a Christian Scientist.) Williams' design is monumental Neoclassical in style, complete with columns and pilasters bearing Corinthian capitals on a double-curved front portico with a Chippendale side-window pediment. The church, framed of steel with a stucco exterior, was originally painted pale yellow with white trim. The building was home to the congregation from 1939 until 1998, when major plumbing and electrical problems convinced them to move to a larger and newer location.

The next phase of the building's life involved a second strong willed woman Moya Lear (image 17). Lear, widow of aviation inventor Bill Lear, Jr., was an active member of the church and the theater community. Wanting to preserve the building and encourage the arts in Reno, she purchased the church building in 1998 and donated it to the Reno-Sparks Theater Community Coalition for renovation. Ten years and $9 million later, the renovations are incomplete. A combination of inflation and structural design problems, including an oft-flooded basement, contributed to the project's delayed completion. The renovations are still in progress, but the patient attention to the details of Williams' design is visible in images 8 - 15.

In an interview in 2007 with KOKO-TV, Mella Harmon of the Nevada Historical Society commented on the importance of the Lear Theater's physical presence on the Truckee River in the revived art scene in Reno. She stated that "the context of a building's location in a neighborhood, in this case Reno's most historic and its art's district, is an important value." When Anna Loomis selected the land beside the Truckee River (images 4-5) as the location for her church, she demonstrated her philanthropy, intelligence and insight as a businesswoman. The 70 years that have passed since her inspired pairing of the site with the architect have proven the wisdom of the old real estate adage that location is everything!