| | |
| --- | --- |
| Gallery | El Mirador Hotel, Palm Springs, CA |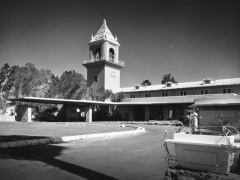 El Mirador Hotel, Palm Springs, CA
Julius Shulman Photographic Archive, Research Library, The Getty Research Institute





Cattle baron Prescott Thresher Stevens believed in the future of the Palm Springs area. First relocating to Hollywood from Colorado with his wife Frances in 1912, he later moved to the Palm Springs area for the "dry, warm therapeutic air." (Greg Niemann. Palm Springs Legends, 2006) In 1926 with a small group of developers, Stevens invested almost $1 million to create the El Mirador Hotel and Tower. Designed in the 1920s Grand Hotel mode by Los Angeles architects Walker and Eisen, the original complex had 200 rooms. A 60-foot multi colored tile-roofed bell tower was a distinctive feature. (The tower with panoramic views of the mountains, Palm Springs and Coachella Valley is still one of the tallest structures in the area.) Detached wings and bungalows were added to the hotel by later owners. (City of Palm Springs. Department of Planning Services. Memorandum, December 12, 2011)
Opening on New Year's Eve 1927, the Spanish Colonial Revival-style resort became one of the most fashionable destinations for the powerful of Hollywood. El Mirador was one of the first hotels in Palm Springs designed to cater especially to this clientele. While other hotels in the area had restrictive guest policies, Prescott insisted on an open policy. Jewish movie stars and powerful studio chiefs flocked to the hotel. The Marx Brothers, Al Jolson and even Albert Einstein were frequent guests who enjoyed the relative seclusion and high standard of service offered at the property. It was so popular that the area near the hotel became known in trade papers and fan magazines as the movie colony.
The Great Depression was difficult for Stevens and the other investors in the El Mirador. In 1931 they were forced to sell the property to the bondholders. The new owners hired Warren Pinney to manage the hotel and reinvent its image and service. Under Pinney's direction El Mirador was transformed into a premiere resort. Fan magazines and newspapers featured stories about fresh new celebrities who lounged and "strolled across the El Mirador grounds" creating an exclusive atmosphere that brought visitors from across the country. The El Mirador became an aspirational destination for the newly wealthy of America. Automobiles and the extension of the rail lines made Palm Springs more accessible and helped insure the success of the revamped resort. (Lawrence Culver. The Frontier of Leisure. 2010)
During World War II, the underutilized resort was purchased by the federal government and became a military hospital, Torney General Hospital. The buildings were converted to accommodate injured soldiers and barracks were constructed. A portion of the hospital remained a community hospital after the war.
In 1952, F. Roy Fitzgerald of Chicago and 17 other investors purchased El Mirador and hired Paul R. Williams to remodel the property, now declared army surplus. Their plan was to spend over $5 million on the project. Williams' proposals for the refurbished hotel were described at the time as "lavish." (Los Angeles Times. November 14, 1952) His new design included the addition of a porte-cochere entry (image 1), cabanas, sun decks, new pool area, and an outdoor lounge with modernistic trellis and retractable canopy (image 2). Beverly Hills interior designer Helen Franklin collaborated with Williams to create all new interiors. Opening with a grand "formal dinner-dance," the hotel was even more glamorous, attracting a new set of movie stars, moguls and national politicians including various US Presidents.
By 1973 the hotel was again closed for financial problems and the remaining buildings sold to the near-by community hospital, the Desert Regional Medical Center. The main hotel and tower would remain standing until they destroyed by fire in July 1989. Because the original El Mirador Tower was an important Palm Springs landmark, in 1991 a new tower was constructed based on the original plans.